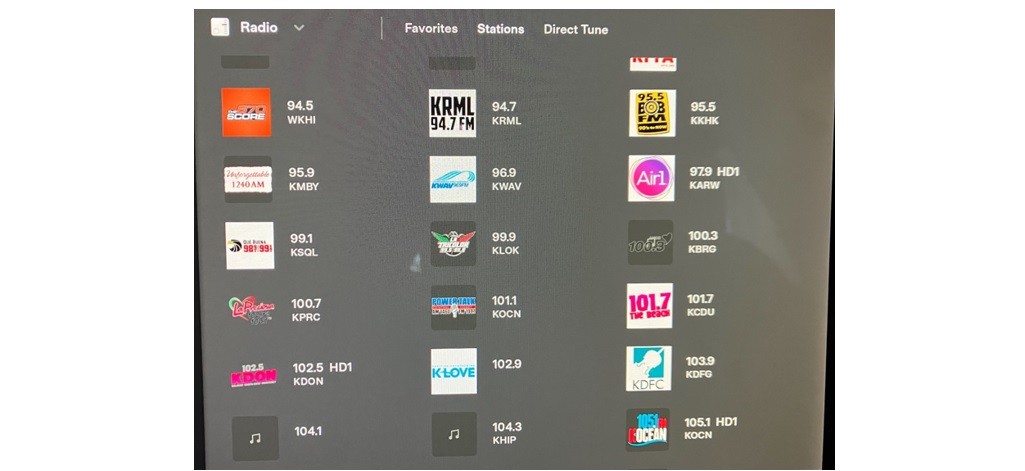 It seems that all we hear about over-the-air radio broadcasts in electric vehicles is that AM is going away due to interference and FM is irrelevant due to streaming apps. Tesla has very affirmatively upended this conventional wisdom with an over-the-air update that adds Xperi's DTS AutoStage to most Tesla's.
This free software update, just the latest in a long string, brings metadata for station identification and artwork to the in-dash radio experience. It also reveals a lot about how in-car radio is evolving.
First of all, as is illustrated in the image (above), some stations may not have metadata associated with their displayed icon. In Tesla's case this is most likely due to the strong radio reception in Tesla vehicles exceeding the anticipated coverage radius defined by DTS AutoStage. This is easily corrected, but a tip of the hat to Tesla's engineers.
The display of 18 station logos also raises real questions as to how drivers will interact with the radio. The radio dial was abandoned long ago. Will we select stations by voice or touch? How will we search?
The bigger issue is that Tesla has brought this experience to dashboards with an over-the-air update with little or no fanfare. Tesla is expected to add a Radio Traffic Alert function via over the air update and will be adding Dolby Atmos audio enhancements via over-the-air update.
This is in addition to adding Emergency Safety Solution's Hazard Enhanced Location Protocol broadcast (H.E.L.P.) functionality via over-the air update. HELP is designed to alert oncoming cars when a Tesla – or similarly equipped vehicle – is disabled along the side of the road due to a crash or breakdown.
And this, too, is in addition to Full Self-Driving having been switched on for thousands, if not hundreds of thousands, of Tesla drivers in the past few weeks. Tesla is calling the tune in the automotive industry from the standpoint of both innovation and speed to market.
We always knew that over-the-air updates would help preserve the value of so-equipped vehicles, such as Teslas. What we didn't expect was that Tesla would become the go-to partner for industry startups seeking the fastest route to market.
Where the average auto maker offers a 2-3 year implementation plan to new market entrants. Tesla offers the prospect of instant deployment along with the ability to assess consumer response also almost instantly.
The preservation and enhancement of vehicle value has been proven as used Teslas are routinely resold at the same prices at which they were acquired. But serving as a platform for innovation means every dreamer with a new idea for safer driving or in-vehicle content consumption is making Tesla a first stop.
It so happens that in the process, radio has benefited handsomely with new content and interfaces. But, actually, if you want the state of the art in a connected radio experience you probably still have to look to Mercedes-Benz or Hyundai. Tesla's DTS AutoState implementation uses only static station data and has not yet implemented artist and track information – already deployed in select Mercedes-Benz and Hyundai vehicles. But if you want Dolby, Tesla will be the place to look and listen.
Also Read:
Regulators Wrestle with 'Explainability'​
Functional Safety for Automotive IP
Share this post via: