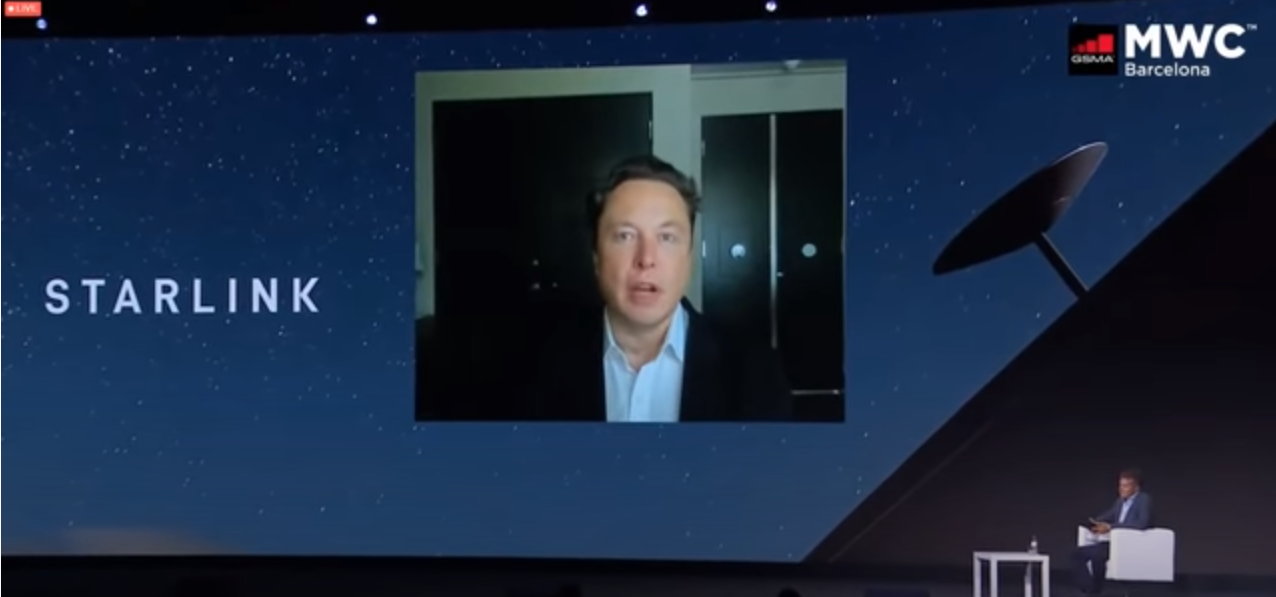 A few weeks ago Mobile World Congress included among its keynotes a live interview with Tesla CEO Elon Musk moderated by Mobile World Live Publisher Justin Springham. The subject was Starlink, the low earth orbit (LEO) constellation intended to deliver global Internet access.
Mobile World Congress Musk keynote interview
Tongue-in-cheek speculation has long suggested that Musk intends to bring satellite connectivity to Tesla automobiles with Starlink. Some commenters have taken to Photoshop to create silly pictures of Teslas outfitted with the ungainly Starlink antenna.
Musk has a far more cunning plan in mind, according to his interview. He revealed that he is in talks with multiple telecom companies which are seeking to solve their 5G rural coverage and backhaul challenges. Starlink might be the ideal solution for doing just that.
The idea ought to take the breath away from every executive responsible for automobile connectivity. A collaboration of this sort with wireless carriers solves some fundamental problems for those carriers and might convince them to give Tesla advantageous rates for connecting cars.
Carriers with expensive 5G licensees often have rural service delivery requirements to fulfill to put their licenses to work in deploying 5G. At the same time, telecommunication companies may put up towers in remote areas to fulfill those requirements, but will still require backhaul.
With his 1,600+ satellites in low earth orbit, Musk has a tantalizing solution to this regulatory problem. Providing this kind of service to wireless carriers with 5G licenses may give Musk an alternative path to positive cashflow.
Estimates are that when all is said and done, developing, launching, and completing the creation of the Starlink constellation will have cost the company $10B. Musk currently claims to have more than 10,000 customers paying $99/month for Internet service, after having installed their $499 Starlink antennas. Musk adds that the antennas are being sold at a loss. This kind of piddling revenue stream would put Starlink on the fast-track to bankruptcy – the usual path followed by satellite startups.
You don't need to be a rocket scientist to see that Starlink will never recoup its $10B investment delivering satellite connectivity to mountaintop and rural users around the world – even if Starlink is able to reach the 500,000 subscribers that it foresees. Starlink might, however, recover that investment as an infrastructure play.
In fact, Musk may even be seeking to provide the solar power to support equipment located in rural or remote locations – often supported currently by diesel generators. Such a gambit fits with Musk's pattern of leveraging government support.
Whether it is hundreds of millions of dollars in carbon credits or juicy SpaceX contracts with the Federal government to serve the International Space Station, Musk has consistently aligned his commercial objectives with publicly funded initiatives. Now, he is signing on to help solve the broadband-for-all agenda inherent in the soon-to-be-passed infrastructure legislation in the U.S.
Satellite connectivity is already widespread in cars including GPS and, in the U.S., SiriusXM – and more is coming. Starlink will not be part of that story. Musk's collaboration with carriers, though, may give Tesla a leg up on advantageous wireless rates – maybe.
Share this post via: