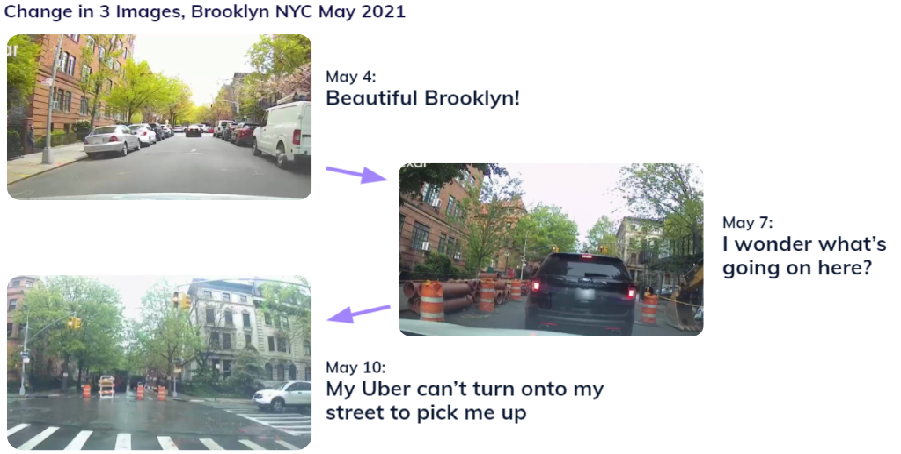 As the U.S. and global economies emerge from COVID-19 lockdowns the enduring impact on transportation is still unfolding. Ride hail drivers are returning. Car sharing is surging. Autonomous vehicle testing is reviving. Commuters are commuting. And pedestrians are multiplying.
As people and vehicles return to highways and bi-ways, cities and towns are coming to grips with rising vehicle-related fatality rates just as drivers are coming to grips with a transformed streetscape. Precisely at the moment that people and goods delivery have become increasingly important, available pickup and drop-off points are increasingly blocked by roadworks or restaurant-related outdoor seating.
All of this is happening on the eve of the U.S. approving historic infrastructure funding likely to touch off unprecedented traffic disruptions.
Now, more than ever, drivers and municipal authorities are looking for more reliable and complete data on available traffic through points in real time as well as retrospectively. This is where Nexar comes in.
This week, Nexar announced a relationship with Blyncsy to provide the company's Payver service with crowdsourced imagery of pavement markings. Blyncsy's Payver provides up-to-date information on highways and roads by using real-time images and detections collected from the hundreds of thousands of Nexar dash cams currently driving U.S. roads and applying Blyncsy's proprietary machine learning models to understand the changing road conditions and visibility of pavement markings.
Nexar's dash cams are also gathering data on the exact location of every stop sign, traffic light, lane line, curb, and parking space. And that is precisely how Nexar's data is being used, after appropriate anonymization, by transit authorities, municipalities, and autonomous vehicle developers.
The various scenarios were detailed in a recent CoMotion Webinar and included identifying and locating:
Work zones
Abandoned work zone traffic diversion materials
Blocked streets
Streets with reversed lane traffic
Unprotected traffic guiding personnel
Lanes blocked for restaurant outdoor dining
Free parking spaces
Improper traffic cone use or placement
An overview of Nexar's available dash cam imagery leaves little doubt that both human and "robot" drivers face an array of formidable challenges in the current post-COVID traffic environment. It is perhaps no surprise that traffic fatalities are up in the U.S. and elsewhere and industry experts and autonomous vehicle operators are forecasting a much longer struggle to achieve fully autonomous operation than previously thought.
Nexar supports multiple autonomous vehicle training and development efforts with its imagery resources representing upwards of 100M miles/month of data. In our brave, new post-COVID world, the variety and volume of vehicles, pedestrians, and roadway obstacles and circumstances is more confusing than ever. It's a good time to be gathering and sharing this data.
Share this post via: