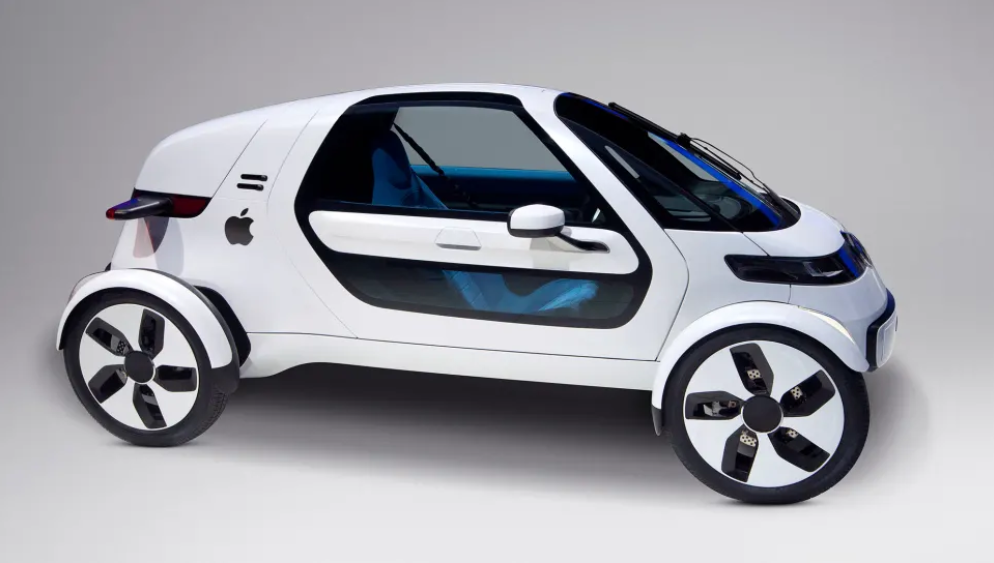 These days tech journalists and analysts appear confident of one thing. Apple is working on an autonomous car.
There's a "Garbo Talks" quality to the tea leaf reading around Apple's autonomous vehicle development efforts. The latest chapter was written with the publication of Kara Swisher's latest "Sway" podcast episode in which she interviews Apple CEO Tim Cook.
"Is Apple's Privacy Push Facebook's Existential Threat?" – https://tinyurl.com/ynauapr9 – "Sway" podcast
Near the end of the episode, which largely focuses on Apple's App Tracking Transparency initiative, Swisher takes a few shots at unearthing some details regarding Apple's automotive efforts. She notes the Elon Musk, CEO of Tesla Motors, comment that he had offered his company to Apple for one tenth of its value but couldn't get a response from Apple. She also astutely notes that Apple famously eschews high priced and high profile acquisitions.
For his part, Cook coyly comments that he has never met Musk, though he admires him and his achievement of establishing and preserving electric vehicle leadership. He then adds:
"The autonomy itself is a core technology in my view. If you sort of step back the in a lot of ways the car is a robot.  An autonomous car is a robot.  There's lots of things you can do with autonomy.  We'll see what Apple does.  We investigate so many things internally.  Many of them never see the light of day.  I'm not saying that one will not."
Swisher: "Would it be in the form of a car or the technology within a car."
Cook: "I'm not going to answer that question."
Swisher: "I think it has to be a car. It can't be just… You're not Google." Swisher is referring to Google's automotive strategy which has included injecting Android operating system software into embedded infotainment systems, enabling Android smartphone mirroring, and Alphabet's Waymo initiative which is reliant on mass produced vehicles equipped with Waymo-developed hardware and software.
Cook: "We look to integrate hardware, software, and services and find the intersection points of those because we think that's where the magic occurs.  And so that's what we love to do.  We love to own the primary technology that's around that."
Swisher: "I'm going with car with that if you don't mind…"
So we know Apple's autonomous vehicle plans for what they are not rather than for what they are.  Cook won't say.
From what he has said, though, one might presume that Apple has considered the options and has already eliminated a few. For example:
Might Apple acquire an EV startup or legacy auto maker?  Apple has no history of massive acquisitions of the sort necessary to bring the company more directly and immediately into the automotive industry generally, whether to manufacturer human controlled or autonomous vehicles.  Besides, it is likely that any existing auto maker would have to be reorganized from the inside out to suit Apple's requirements and vision.
Might Apple license its software for integration into existing mass produced vehicles?  Apple's Cook appears to be interested in owning the entire hardware-software-services nexus, which would appear to rule out a licensing scheme.  Apple's Cook is unlikely to be granted sufficient control over the hardware-software-service nexus for him or the licensing partner to be comfortable.
Might Apple create an aftermarket/add-on module for vehicles – to be built in at the factory or sold retail (a la Amazon Echo Auto)?  This seems highly unlikely and a half-assed approach to a market entry.  Once again, Apple's control over the customer experience would be limited, compromised.  Such strategies and devices have seen limited success.
Like Google, Apple has a foothold in the automotive industry thanks to its CarPlay smartphone mirroring and the adoption of its Siri voice recognition by multiple auto makers.  But reports from multiple media outlets point to the hiring of hundreds of engineers – including many former Tesla executives – all tasked with creating an Apple car of some kind – autonomous or not.
Apple has approximately $200B in cash on hand – precisely the kind of cash pile necessary to sustain an automotive market entry through the expensive process of tooling, hiring, plant building, and vehicle production.  Interest in an Apple car of some kind appears to be robust.
Technically, there is not much new that Apple can bring to the automotive party.  Apple has its own vision of electrical architecture, but nothing particularly revolutionary.  There is general agreement that Apple does not possess groundbreaking battery technology, in spite of speculation to the contrary.
Apple has some patents around sensing technology and experience in AI and augmented and virtual reality – but nothing particularly automotive oriented.  And reports suggest that the performance of Apple's autonomous test vehicles in California has been unremarkable.
Apple has four assets that might help define a path to market.  Apple has emotional appeal.  Apple has its focus on privacy.  Apple has its "Think different" ethos.  And Apple has a global distribution network and a unique hands-on approach to customer service.
It's entirely possible that Apple could bring some unconventional one or two-seat vehicles to market, in the manner of Renault's Twizy two-seater or Daimler's Smart cars.  These vehicles have found enthusiastic followings, though sales volumes are still well shy of the millions that would be more attractive to mass market auto makers.
There is room for innovation in electric vehicle charging.  Perhaps Apple could find success in swappable batteries where Better Place failed.
The existing excess manufacturing capacity in the automotive industry is equivalent to one-third of current production.  Much of that excess capacity is in the hands of current market leaders in the U.S.  Apple would be an ideal contract manufacturing partner to target the passenger vehicle market now being collectively abandoned by Ford Motor Company, General Motors, and Stellantis in the U.S.  So Apple has the engineering talent, it has an enthusiastic clientele, it has a distribution network, and it has a coy CEO who may be experiencing automotive hesitancy – strange to see in a time of SPAC-happy investors leaping blindly into billion-dollar EV opportunities.
If autonomous operation is the focal point for Apple's automotive ambitions, one can expect continued vapor lock.  The path to market via robotaxis is muddled and via semi-autonomous mass market vehicles (a la General Motors Super Cruise or Tesla Autopilot) is fraught with regulatory, user experience, and technical challenges.
The final notable Apple car rumor is the 2024 timing for launch.  In the end, the market is ready and waiting for Apple, and Cook.  It seems customers are more interested in an Apple car than is Apple.
Share this post via: