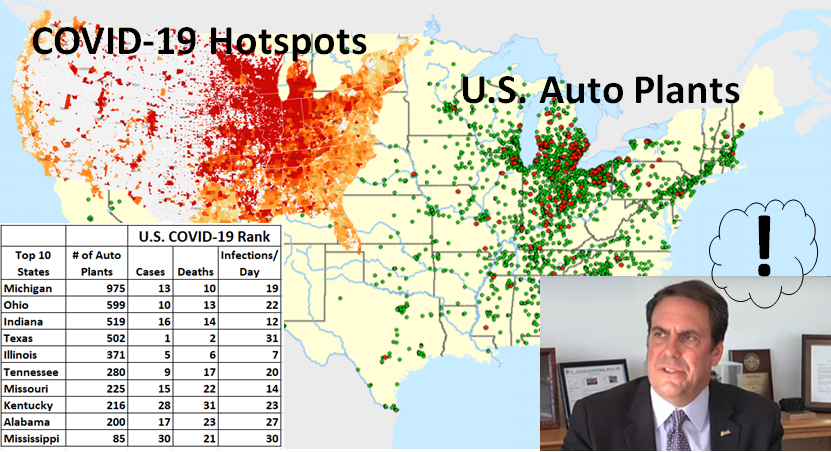 General Motors President Mark Reuss told Reuters last week that he is worried about the COVID-19 pandemic currently running rampant in the U.S. and globally. "I'm so worried about it because it's accelerating and it's not being contained," he said during a "fireside chat" at the Reuters Automotive Summit which concludes Monday.
Reuss' concerns were surprising in light of GM's recently reported earnings which beat analysts' estimates and boosted the company's stock on the back of strong sales of profitable pickup trucks and SUVs. In fact, the atmospherically positive Q3 earnings call paid scant attention to COVID-19 impacts beyond year-over-year comparisons which had evened out since the Q2 lockdown with the possible exception of fleet sales that have been hammered by the severe decline in the rental car sector.
Of course, the earnings call focused mainly on financial issues and Reuss is more of an operational guy with responsibility for GM's vast regional activities and the complex supply chain required to manufacture those profitable SUVs and pickup trucks. In fact, Reuss is also closer to the thousands of workers exposed to COVID-19 risks on a daily basis across the U.S. and the world – including the strategic markets of China and Brazil.
"I just worry about everybody, I really do," Reuss was quoted as saying by Reuters. "I think the industry in general and General Motors has done a good job in our plants. But I really worry about people, the death, the suffering and the unemployment that goes along with this pandemic."
Reuss captured in those words the bizarre bubble world that COVID-19 has bestowed upon all global citizens generally and the automotive industry in particular. For those people so-far unaffected by COVID-19 and able to work from home more or less unmolested, the pandemic is an inconvenience, an annoyance – a bit of mask wearing and hand washing, and a lot less travel.
For millions of others, the pandemic is a struggle to balance remote schooling of young children with the demands of working from home – assuming, of course, the availability of Internet access etc. For millions of others, the pandemic is a reduction in compensation, a lost job, or a loss of health insurance. There is also the care of elderly relatives to be seen to.
For car makers and other factory-centric industries, the pandemic is the daily reality of a potential infection or outbreak or interaction with an infected colleague. Each and every line worker in the automotive industry is suddenly exposed to, interacting with, and dependent upon the personal and social hygiene of each and every other colleague – do they go to church, football games, bars or restaurants?
GM and other auto makers and suppliers have – on their own – developed and implemented comprehensive workplace protocols for in-plant social distancing, testing, and protective equipment, but the sheer size and scope of the automotive industry's supply chain is precisely what must be worrying GM's Reuss. Has GM done enough? What about the hundreds of suppliers representing the links in that supply chain? Are they doing enough … every single day?
So here we are in the COVID-19 bubble. Ford Motor Company and GM reported analyst-estimate-smashing profits in the past two weeks and other car companies have reported solid third quarters as well. But can these results be maintained in the face of a pandemic and in the context of a global supply chain being put at risk by a surging pandemic unmatched by globally coordinated mitigation measures?
"I worry that in places that are very different from the United States, Canada or Mexico that a relaxation of some of these (mitigation practices) would hurt the supply chain and have us not be able to run our plants," Reuss told Reuters. "I know everybody is doing the best they can but we have to keep that up."
In the U.S., alone, the automotive industry is dependent upon suppliers operating plants in some of the highest infection rate states in the country. People are actively being discouraged from traveling, yet parts and cars must be manufactured and moved across state lines. Those factory workers in the auto industry are suddenly essential workers – essential to creating transportation resources and essential to the health of the economy.
Individual governors have been forced to step forward with increased mitigation measures – in some cases in the face of both legislative and public opposition and approbation. The lack of alignment among political leaders and with the public is yet a further source of concern for someone like Reuss and every other auto executive – or any executive in a factory-centric or even service delivery industry.
Being concerned or even afraid will not solve the problem. It may be time for all industries, not just auto makers, to demand consistent direction and guidelines for maintaining operations during a global pandemic. The world's economy is skating on a knife's edge and the slightest disruption could burst the COVID-19 bubble of prosperity – because the rich are getting richer, and those able to continue to work from home are getting complacent.
New car prices are rising as supplies are constrained and demand remains strong – fueled, in part, by consumers leaving public transportation for privately owned vehicles. But if we can't make the cars we can't continue to deliver the vehicles and post the impressive profits. The time for collective action is now. The finance folks need to start listening to the Mark Reusses of the world.
Share this post via: