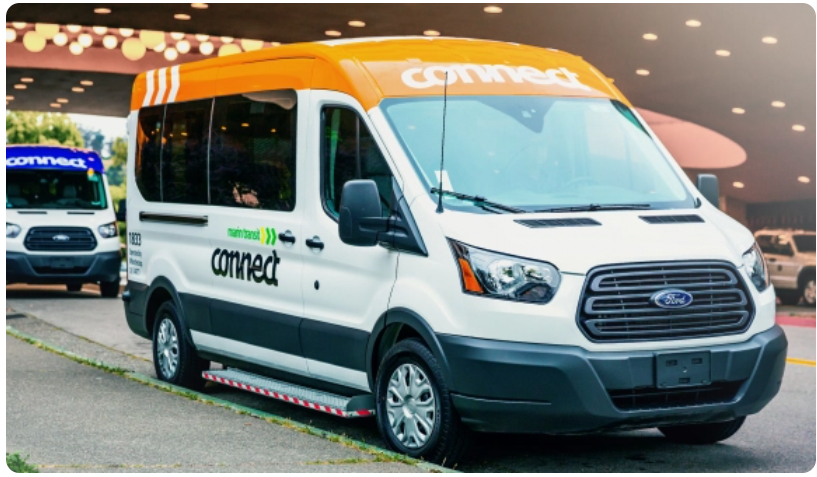 For years, the lords of Lyft and Uber have declaimed their intention to vanquish car ownership and displace public transportation. It really was as simple and as blunt as that. For sure there would be collateral damage including rental car companies and taxi operators and millions of under-compensated drivers – but the bottom line was crush, kill, destroy.
It was a simpler time when taxi operators hated Uber and Lyft (and their ilk) as did airports, cities, and rental car companies. All the while, Uber soaked up billions in fares and force fed those fees into software development focused on optimizing routing and logistics resulting in a trove of patent filings and, in a remarkable turning point for the company, the signing, this week, of a public transport agreement with Marin County in California.
In about a decade's time Uber has transformed from transportation industry pariah to potential panacea. Uber has made peace with airport operators who have created massive dedicated ride hailing pickup areas transforming traffic flows at airports around the world. And Uber has co-opted taxi operators as sub-contractors in multiple markets where regulations required this shift.
Cities, too, have turned to Uber (and other operators) to serve areas under-served by existing mass transit options either chronologically or temporally – the buses can't run all night long, after all. In fact, Uber has recast its messaging around transit painting itself as a supportive partner.
From Uber's Website: https://www.uber.com/us/en/community/supporting-cities/transit/
"Ridesharing can not only help people get to their nearest transit stop but also:
Fill in gaps in existing public transit service
Provide access to underserved communities
Alleviate the demand for parking
Reduce costs of underused routes or services"
This is a very different song for Uber. It raises the stakes. In fact, it changes the game.
The Uber app's reach, familiarity, and ease of use for both booking and paying are able to overcome multiple pain points for public transit operators. Uber has integrated public transportation options within its app in multiple cities around the world but the Marin County deal is unique.
Uber (and other ride hailing operators) has built their market capital on their ability to rapidly consolidate local ad hoc transportation activity in the form of millions of rides and billions of dollars creating overwhelming clout with adjacent service providers – such as public transit and airports.
In Marin County, Uber will manage rides for public minibuses – leveraging the Uber platform's ability to match riders travelling in the same direction. Rides will cost $4 per mile, or $3 for those with disabilities or other mobility issues, with the fee going directly to Marin Transit. Uber will not collect a commission, instead charging the authority a flat monthly rate for the next two years, totaling no more than $80,000 over that period, according to terms reported by the Financial Times.
This first deal appears to be a camel's-nose-under-the-tent proposition and marks a critical turning point as cities around the world emerge from lockdown fearful that their public transportation systems will be permanently and negatively impacted by COVID-19 concerns among normally reliable riders. Transit operators have tried, with mixed success, to foster their own app-based transit access.
Integration with Uber – or other regional ride hailing companies – now appears to be an essential element to expanding ridership – while re-opening and recovering from the COVID-19 outbreak.
Uber, of course, has taken matters further by taking on the back end routing and logistics in Marin County – not normally a strength of local transit operators. Uber is uniquely adept at managing the integration of ad hoc and scheduled transportation services.
Uber can put to work its network effect to help cities optimize public and private transit options. There are multiple ironies in the effort as it will simultaneously draw transit users to the Uber app and Uber users to transit. In all likelihood both Uber and transit operators will benefit.
The Marin County deal has the potential to upend Uber's original nihilistic approach of laying waste to all non-Uber transportation alternatives. It also has the effect of signaling to Google, HERE, Intel/Mobileye (which recently acquired transit app Moovit), and regionally dominant ride hailing operators – Grab, Gojek, Gett, DiDi Chuxing, and Yandex – that this is the new path forward.
It further sets the stage for Uber and its like to capture the mobility-as-a-service flag with integrated transportation options, payment, logistics, and, as in Marin County, the back-end systems.  All those years that taxi operators, rental car companies, airports, and cities were crabbing and complaining about Uber's disruptive and sometimes illegal activities, the company was laying the foundation to fundamentally transform and take charge of transit networks – maybe.
It's no wonder that Uber is fighting strenuously against Los Angeles' Mobility Data Sharing initiative. It's clear now that Uber's crown jewels are its patents and logistical knowhow – and its data. It's also clear that the key to managing urban transit lies in data – and ride hailing operators around the world are decoding cityscapes every day.
Uber is battling MDS on privacy grounds, but the battle for ownership and control of data is more existential for cities and for ride hailing operators. What is shaping up is a war over the hearts, minds, and wallets of the travelling public. Uber brings a tattered reputation to the battlefield, but it is important to understand that the one-time pariah is increasingly seen as a paragon of transit virtue.
Share this post via: