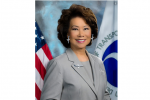 U.S. Department of Transportation Secretary Elaine Chao has agreed to mount the stage at the upcoming Consumer Electronics Show in Las Vegas to share her vision of the positive economic impact of technology unleashed from regulatory oversight. It's a powerful message but it's going to be a tough sell.
Chao is likely taking the keynote slot vacated by General Motors CEO Mary Barra in the wake of the catastrophic United Auto Workers strike which left dealer lots bare in time for Christmas and delayed plans for the company's first electric pickup truck – at least according to official GM statements.
The front burner issue for Chao at CES 2020 will be enhanced vehicle safety from inter-vehicle (V2V) connections. To her credit Secretary Chao has carved out a technology agnostic stance on the issue which has conveniently left the door open for the Federal Communications Commission to pass a Notice of Proposed Rule Making (NPRM) last week re-allocating the 5.9GHz spectrum intended for V2V applications.
"The Commission proposes to designate the lower 45 megahertz of the band for unlicensed uses like Wi-Fi," writes the FCC in its NPRM. "This 45 megahertz sub-band can be combined with existing unlicensed spectrum to provide cutting-edge high-throughput broadband applications on channels up to 160 megahertz wide.
"The Commission is proposing to dedicate the remaining 30 megahertz of the band for use by transportation and vehicle safety-related communication services. Specifically, in the NPRM, the Commission proposes to revise its rules to provide Cellular Vehicle to Everything (C-V2X), an emerging standard for transportation applications, with exclusive access to the upper 20 megahertz of the band.
"Under the Commission's current rules, no spectrum is allocated for C-V2X. The NPRM seeks comment on whether to retain the remaining 10 megahertz for use by DSRC systems or to dedicate it for C-V2X use."
If adopted, the FCC plan likely puts a fork in the plans of the National Highway Traffic Safety Administration's efforts to mandate dedicated short range communication (DSRC) technology for the same application. This 20-year-old effort appears to have arrived at the end of the road – which one might imagine is welcome news at the Trump administration's USDOT where regulations are being eliminated, not promulgated.
Just last week Chao released a statement that she had signed a "rule on rules" ensuring the department's regulations aren't "too complicated, out of date, or contradictory." The new Transportation Department action formalized a Trump administration requirement that for each regulatory step a department takes, it must undertake two deregulatory moves.
News reports quoted USDOT claims that it had exceeded its own standard, establishing a ratio of 23 deregulatory steps for each regulatory initiative – estimating unspecified resulting industry savings of $3.7B. (The agency provided no details regarding the source of these savings or industries impacted.)
Maintaining that 23-1 ratio of deregulation to regulation may pose a challenge as the USDOT faces a growing clamor for more regulatory guidance in the development of self-driving cars and the advancement of active safety systems. Secretary Chao and the Trump administration may have painted themselves into a corner with the new mandate or simply written themselves out of the normal NHTSA script intended to reduce highway fatalities by guiding the future of automotive design.
Of course, the claim of a $3.7B contribution to industry savings from reduced regulatory oversight must be considered in the context of what is shaping up as a far more enduring industry impact from Trump administration policies as Boeing ponders the termination of 737 MAX production in January. With two fatal crashes occurring under the guidance of an acting USDOT secretary (preceding Secretary Chao), the Trump administration will have to come to terms with the $3.7B earnings hit Boeing took months ago to which $5B in victim compensation and liability has since been added to Boeings books.
Some have taken to describing the USDOTs deregulation binge as "win-ovation." Nobody at Boeing in Chicago or Renton, Washington, would use such a word – especially as Boeing ponders what may be the demise of its most popular plane.
Maybe Secretary Chao can ask fellow CES keynoter Delta Airlines CEO Ed Bastian what he thinks about deregulation.
Share this post via: