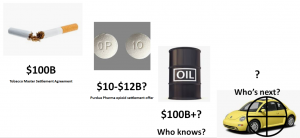 In the heat of a presidential campaign, especially one with 19 competing candidates, the contenders may get carried away in the interest of getting attention and, presumably, attracting supporters. Beto O'Rourke might be accused of such rhetorical excess for his call, in the third Democratic Party debate, for a mandatory Federal assault rifle buyback.
But fellow Democrat Senator Bernie Sanders may have beat Beto with his plan to pursue criminal charges against fossil fuel executives for, in the words of truthdig.com, "knowingly accelerating the ecological crisis while sowing doubt about the science to the American public."
Sanders' comments came during an MSNBC climate town hall hosted by news anchor Chris Hayes at Georgetown University last Thursday. Truthdig.com quotes Sanders:  "Duh, of course I would. They knew that it was real. Their own scientists told them that it was real. What do you do to people who lied in a very bold-faced way, lied to the American people, lied to the media? How do you hold them accountable?"
Over the subsequent din of shredding machines going into overdrive at the offices of the major oil companies could be heard the clacking of worry beads at the headquarters of the major car companies. Knowledge of climate change is one thing. Building a product collectively responsible for 1.2M highway fatalities globally and hundreds of thousands of premature deaths from emissions every year – with an aggregate estimated negative societal impact of more than $1T – is enough to give even Senator Sanders and former Congressman O'Rourke pause to consider their options.
President Donald Trump's efforts to roll back emissions standards and fuel efficiency requirements are pulling back the curtain on some very unpleasant issues the automotive industry would rather not highlight. While the industry is wrestling with the challenges of connecting cars and the onset of autonomous driving and electrification, the specter of premature death and injury caused by motor vehicles with internal combustion engines is an ugly open secret the industry would prefer remain out of the spotlight.
President Trump has dragged the issue to the center of the stage in the interest, so he says, of helping to jumpstart automobile production. The subtleties of managing emissions and fuel efficiency while enhancing vehicle safety – a high wire act which the automotive industry has ably executed thus far – has clearly eluded the commander in chief.
Young people and old around the world have made their concerns known regarding climate change. Their ire is mainly focused, today, on legislators and politicians. It won't be long before they turn on the fossil fuel producers. Car makers could well be next – as was clear from the presence of protesters demonstrating once again outside the 2019 Frankfurt Auto Show. The President isn't helping.
Share this post via: