In its most recent shareholders' meeting Tesla Motors CEO Elon Musk noted that the Tesla Model 3 is the highest revenue producing car in the U.S. and fourth best-selling by unit volume. He also noted Tesla's vehicles' industry-leading fuel efficiency and range.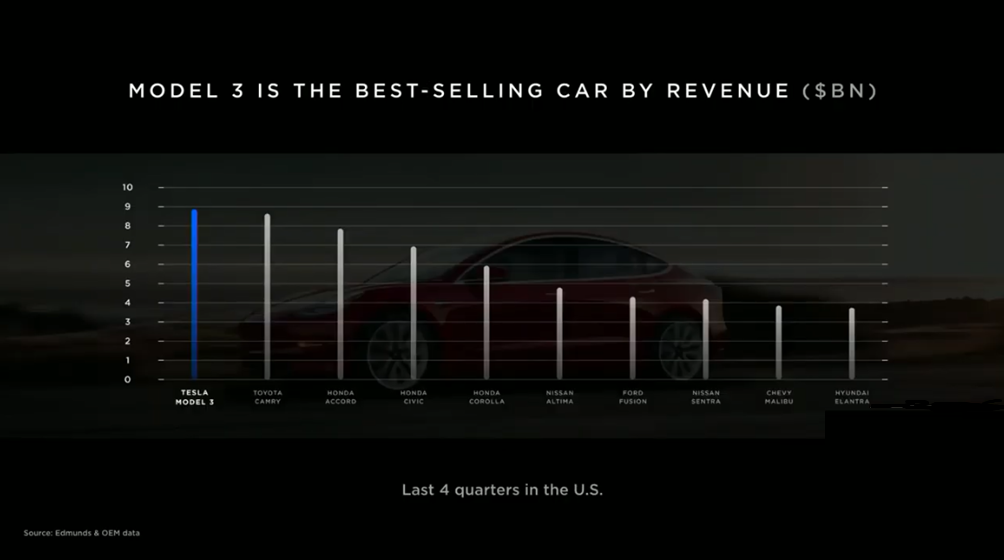 Musk took the further step of emphasizing the lower cost of ownership of Tesla's vehicles versus internal combustion engine vehicles such as the Toyota Camry or Honda Accord. What he neglected to mention was the potentially higher cost of insurance.
Tesla owners have been wrestling with escalating insurance costs as a troubling factor has emerged in the Tesla ownership experience: the challenge of obtaining timely repairs resulting from the limited availability of replacement parts and supporting service organizations. Without directly addressing the issue during the shareholder meeting, Musk noted the company's addition of direct repair services and roadside assistance for everything from tire replacement to bumper repair. "We just did our first bumper repair," Musk said.
This is but one contributing factor to an enduring multi-year effort on the part of Tesla to provide its own car insurance. Also in the shareholder meeting Musk mentioned that an insurance offering from the company would involve "a small acquisition and a bit of software to write." There were no follow-up questions on either the direct repair services or the potential acquisition of an insurance company.
Tesla has partnered with State National Insurance to handle underwriting as a response to an 18% escalation in the cost of repairs for insurers such as Liberty Mutual, GEICO, and Progressive. Musk went a little further in a more recent earnings call suggesting that the company was one month away from launching its own insurance product and implicating Tesla drivers as the cause of rising insurance rates.
Said Musk:  "(The company's insurance offering) will be much more compelling than anything else out there. We have direct knowledge of the risk profile of customers, and based on the car, and then if they want to buy a Tesla insurance, they would have to agree to not drive the car in a crazy way. Or they can, but then their insurance rates are higher."
The comment is aligned with Musk's frequent claims regarding the superior performance of Tesla vehicles in surviving and avoiding crashes. Musk got involved in a dispute with the National Highway Traffic Safety Administration (NHTSA) last month when he claimed, using NHTSA's own data, that drivers and passengers were least likely to be killed or injured in a Tesla vehicle. This claim followed Musk's assertion from two years prior, that Tesla vehicles equipped with the company's autopilot technology were approximately 40% less likely to be subject to an insurance claim resulting from a crash.
The bottom line appears to be that Tesla's insurance cost problem is less related to vehicle performance or driver behavior than it is to the logistics of replacement parts availability. Glass for cracked or shattered windshields and damage to large sunroofs appear to be just one of many chokepoints for replacements parts and warranty repair vulnerabilities.
It is possible, though, that the frequency of claims is an issue as well but the jury is out and the data is not in. Anecdotally, reports continue to come in from around the world of Tesla vehicles operating in autopilot mode plowing into emergency and service vehicles parked on the shoulders of highways.
Nevertheless, Musk stands by his safety claims for Tesla vehicles' ability to survive and avoid crashes. Still, the company does need to address the repair issue.
For now, it appears that Tesla intends to offer its own insurance and is taking on its own repairs. The former problem seems easier to solve than the latter. Either way, it's a problem Tesla will have to solve for it to continue to be able to tout a lower cost of ownership relative to Toyota and Honda. If there is one thing Toyota and Honda owners can count on, in addition to having among the lowest costs of ownership, it is the broad availability of replacement parts and repair organizations.
Share this post via: