Modern cars have about as much in common with their predecessors as modern cell phones have in common with dial up land-line phones. Cars now are loaded with a bevy of electronics, some of which serve the convenience of the driver and others are essential for vehicle operation and occupant safety. With the introduction of sophisticated electronics, comes the potential for security threats.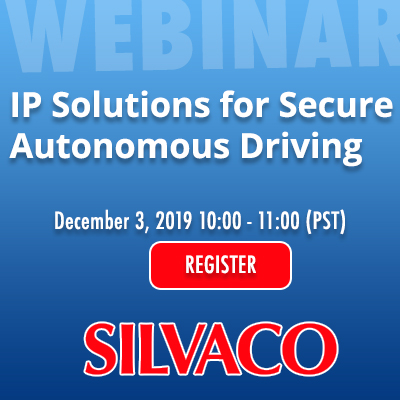 Cars often already have built-in cellular connections and will be expanding their interactions with external devices in the form of electronic keys, other vehicles, roadway instrumentation, traffic and routing information, over the air updates and more. With each of these communication channels comes the potential for vulnerability. Defending these systems against compromise is essential for preventing theft, nuisance, damage, and collision – with the threat of bodily injury or death.
Automotive system designers need to address the challenges of hardening and securing vehicles against these threats. Fortunately, there is IP available that can help provide the kinds of protection that vehicle systems need. Silvaco, a leading supplier of IP, will be offering a free webinar on the topic of "IP Solutions for Secure Autonomous Driving" on December 3 2019 at 10AM PST. The presenter is Conor Culhane, Senior Application Engineer at Silvaco. He specializes in embedded security solutions, and holds a BS in Computer Engineering from Georgia Institute of Technology.
His presentation will cover many aspects of building secure SoCs for automotive applications. Connected vehicles present a variety of attack surfaces. To help  counter this software upgrades must be secure and critical vehicle networks need to be physically isolated. Part and parcel of this is hardware identification for authentication and secure cryptographic key management.
The webinar will also cover security IP solutions from Silvaco that address the needs of this market. They offer security processors, cryptography, hashing and secure key management. They also offer modules that serve as runtime integrity checkers and DRAM protection. Lastly Silvaco has cypher engines for secure AES and public key engine accelerators.
While thieves may not be able to jump in and rub two wires together to steal cars anymore, clever malicious actors will be looking for other ways to steal or damage cars, or cause worse problems. System designers need to stay apprised of the latest developments in automotive security. This webinar will go a long way to providing this kind of information. Registration is available on the Silvaco web site.
Share this post via: