Summer Internships – Analog, Software and Digital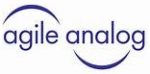 Website Agile Analog
Agile Analog is revolutionising the way Analog circuits are designed. Based in Cambridge but with the ability to work flexibly, we are growing quickly to become one of the world's leading semiconductor IP companies. Using our innovative core technology, we are able to design circuits faster, to a higher quality, and on any silicon process.
We are disrupting methodologies that have been unchanged for generations and are looking for current students with a similar curious mindset and desire to play a part in our continued success during internship opportunities.
Working alongside our amazing diverse engineers you will get real hands on experience working in either our software, digital or analog teams.
What we need from you
As an intern here at Agile Analog, we will offer you the support and guidance to learn through playing the role of an actual engineer not a student, giving you real practical insight and experience, knowledge sharing and the chance to really test your skills.
With opportunities across several of our departments from analog design, software, digital design and project management, you will work alongside our leading engineers creating solutions to develop the algorithms, tools and infrastructure to automate creation, validation and verification.
Requirements
What we need from you:
Working towards a degree in Electronic Engineering, Computer Engineering, Computer Science or other relevant STEM subject
An active interest in analog design
Experience and interest in any programming language
Motivation and the desire to learn
A creative approach to problem solving – Bring a different way of thinking
Strong analytical skills
Solid interpersonal, collaboration and communication skills
Ideally an interest in the semiconductor industry
Interview Process:
Whilst we want to make sure we are the right company for you and you are going to be able to contribute to the role effectively, we don't want to waste time with a long laborious interview process. You will speak to your People team followed by an informal chat with one of the senior engineers managing the departments your skills align with, a formal technical interview in our newly designed collaboration centre in Cambridge where you will meet the team and have a coffee with our CEO. You also have access to some of our previous interns so you get a real feeling for what it's really ike to work with us.
Benefits
As well as the opportunity to really contribute to getting things done in a supportive and collaborative environment, we also offer a comprehensive pay, flexible work hours to fit around your personal commitments and a real focus on wellbeing. Yes when we say flexible working and work life balance we really mean it!
If our internship matches your experience, skills and motivations then we would love to hear from you.
Share this post via:
---