Senior Product and Application Engineer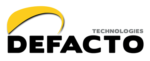 Job description
As part of the company development, we are looking for a Senior Product & Application Engineer to contribute in both product development and technical support to key Defacto customers.
He/she will be involved in the full cycle of product development and validation. Regarding customers, technical support, he/she will be involved from first contact to the daily support of using Defacto tools and contribute in the success of leading edge semiconductor projects, with Major Semiconductor companies.
Also, he/she will be working closely with the R&D team based in Grenoble and North America.
Salary: 43-60k€
Job Location: Grenoble, France
Area of activity: International
Traveling ratio: ~10%
Profile
Engineer with a Master or PhD degree in microelectronic with a minimum of 10 years of experience in SoC Front-End Design: Architecture, synthesis, verification and DFT with the following skills:
UNIX / Linux environment
Knowledge in scripting: Tcl, Perl, Python
Knowledge of digital circuit design: Verilog, VHDL, System Verilog
Knowledge of front-end tools: RTL synthesis, Design For Test, Simulation, Formal equivalence
Very good communication skill in English and French in particular for Technical and general presentations
Very good analysis skill
Self-reliance and work actively with members of the R & D team
Share this post via:
---