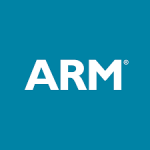 Website ARM
Introduction
Arm designs the technology that is at the heart of sophisticated digital products, from wireless, networking and consumer entertainment solutions to imaging, automotive, security and storage devices. Arm improves people's lives by enabling the intelligence in affordable, easy-to-use electronic products that transform the way we live and work. We work in partnership with a global network of leading technology companies which are using our experienced low-power technology. Together we are crafting the future of a better world.
Today, We are well recognized as the market leader in the CPU and System IP industry to name a few and this has been achieved by consistently delivering reliable and high-quality IP products. The cost of design and manufacturing and that warrants "right first time" approach for all IP and System products by our partners. Time-to-market is essential for our partners to look after steadfast competition in the marketplace, being first would enable them to get premium value from the end products.
Job Purpose
As Senior Design Engineer, you will be a key contributor/leader in versatile RTL design team. You will own microarchitecture, RTL design, methodologies, process, planning etc. for CPU coherency IP of high performance, energy efficient microprocessors.
Responsibilities include
Micro-architecture specification development and design
Verilog and SystemVerilog RTL development and debug
Writing Assertions for RTL code and proving it in Formal verification environment
Working closely with validation, and implementation teams to meet all functional requirements, performance, power and area goals
Planning, tracking, partner communication
Line managing, coaching, mentoring and managing engineers/team
Refining methodologies/process to improve efficiency/quality
Exposure to formal verification is helpful
What skills, experience, and qualifications do I need?
5+ Years of relevant work experiencing in developing/leading sophisticated designs preferably of/around CPU/coherency/cache/interconnect/MMU/TLB
Hands on experience using Verilog HDL for design
Proven experience designing for targeted PPA. Sound ability to make right trade-offs around features, PPA, development cost, verification efficiency/quality etc.
Ability to generate consistent, complete, and concise specifications
Excellent communication (written, verbal, presentations) skills
Co-operate and communicate well with other members of Arm both locally and across sites
Show initiative in identifying solutions to problems of interest to Arm
Be motivated to continuously develop skills and accept a variety of responsibilities
Some travel outside India to Arm may be required
Education
A bachelor's degree in Electronics Engineering or other relevant subject area along with tried related experience may be substituted
Share this post via:
---