Digital Verification Engineer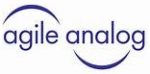 Website Agile Analog
As a Digital Verification Engineer, you will be comfortable working across a range of digital and mixed signal IP developments, including low power and high-performance architectures. You will primarily be responsible for functional verification of complex mixed signal blocks and complete systems built around them.
The role can accommodate candidates across a range of seniority and experience levels, as well as those with additional skills, particularly analog, software and automation skills. As part of a rapidly growing team, there are opportunities to utilise and develop your broader engineering skills in the process of develop our tools, infrastructure, IP and technical capabilities.
Requirements
What you will be doing:
Digital IP verification in mixed signal IP developments
Working collaboratively with technical leaders and engineers
Developing the digital and mixed signal verification strategy and infrastructure
What we need from you:
Hands-on experience and a track record of using advanced verification methodologies such as: Directed testing; Constrained random testing; Assertion-based testing; OVM/UVM; and Code coverage analysis
A working knowledge of a variety of aspects of ASIC development such as: Verilog RTL coding; Design synthesis; Timing constraints and static-timing analysis; and DFT, scan-testing, and ATPG
Experience of leading digital EDA tools for simulation, code debug & analysis etc
Understanding on asynchronous clock domains & multiple power domains in a mixed signal environment
Strong scripting skills (ideally Python) and a working knowledge of automation, version management and continuous integration techniques
Excellent communication and interpersonal skills
Excellent time management and organisational skills
Ability to inspire and empower others to deliver high quality IP within tight schedules
Even better if you have:
Experience of emulator and FPGA platforms
UPF and low power/ multiple power domain experience, particularly in a mixed signal environment
DFT & ATPG experience
Development of mixed signal IP
Benefits
What do we offer in return
As well as the opportunity to really play a pivotal part in our success, we also offer a comprehensive salary and benefits package including:
A friendly, supportive and inclusive working environment
Flexible work hours to fit around your personal commitments
We consider individual requirements to work remotely with home set up assistance provided
Professional development and professional society membership
25 days' annual leave
Company pension scheme (with a salary sacrifice option)
Private health insurance (including optical and dental cover)
Life Assurance
Cycle-to-work scheme
Employee Assistance Programme – free wellbeing and health services
If the above role matches your experience, skills and motivations then we would love to hear from you. Please submit your cv along with your salary expectations and we will be in touch shortly.
Share this post via:
---