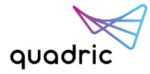 Description
Quadric has created an innovative general purpose neural processing unit (GPNPU) architecture. Quadric's co-optimized software and hardware is targeted to run neural network (NN) inference workloads in a wide variety of edge and endpoint devices, ranging from battery operated smart-sensor systems to high-performance automotive or autonomous vehicle systems. Unlike other NPUs or neural network accelerators in the industry today that can only accelerate a portion of a machine learning graph, the Quadric GPNPU executes both NN graph code and conventional C++ DSP and control code.
As the Hardware Architect, you will report into the CTO and define features across the entire architectural stack. This role is for a person who wants to have a broad impact and is not afraid of working in unfamiliar technology areas. You will be collaborating with software architects to co-optimize across the complete hardware-software stack. Quadric's processor architecture revolutionizes computing by enabling state of the art algorithms at the Edge. As a key member of the product leadership team, you will provide oversight for the product roadmap and it's realization feasibility. Additional responsibilities for this role include leading AI + HPC hardware architectural and microarchitectural pathfinding and requirements gathering with customers and users, designing novel processor features as well as system-on-chips..
Responsibilities:
Own architecture definition & and the associated Power, Performance & Area (PPA)
Gather requirements from customer and subsequent architecting and designing novel features for the next generation of the Quadric architecture
Key technical leader in the areas of computer architecture
Collaborate closely with software architects on architectural pathfinding, definition of system/hardware architectural specifications, and developing exciting multi-year hardware roadmap
Drive principled, major technical decisions and perform feasibility analysis on architectural ideas
Define best practices for high quality product engineering and conduct architectural reviews
Collaborate with product leadership team to Possess keen awareness and ability to stay abreast of upcoming technical trends and internal roadmaps, including monitoring of latest AI research trends
Contribute to full chip product cycle (front end, back-end, tapeout)
If making an impact and having a seat at the table is important to you, this is the opportunity for you. Join our small, rapidly-growing team at Quadric to develop supercomputer technology designed for the Edge. In this position, you will be a core member of our team, and will have an opportunity to grow in the company of expert technologists who also happen to be good people you'll want to spend time with.
Requirements
M.S or Ph.D in Electrical Engineering or a related technical field (or equivalent experience).
10+ years of architecture experience in designing CPUs or GPUs.
Deep knowledge of hardware and software stacks in the computing platform space e.g., CPUs/GPUs/accelerators.
Proficiency in SystemC, SystemVerilog & C++
Strong background in computer architecture
Knowledge of design techniques for low power digital design
Experience in building and delivering complex processors that include multiple blocks software SDK's and co-optimized hardware.
Experience with ASIL certification process is a plus
Familiarity with software development, frameworks and methodology.
Benefits
Quadric is proud to be an equal opportunity workplace and is an affirmative action employer. We are committed to equal employment opportunity regardless of race, religion, sex, national origin, sexual orientation, age, citizenship, marital status, or disability.
What We Value:
Integrity, Humility, Happiness
What We Expect:
Initiative, Collaboration, Completion
What we will do:
Provide competitive salaries and meaningful equity
Provide a politics-free community for the brilliant minds who want to make an immediate impact
Provide an opportunity for you to build long term career relationships
Foster an environment that allows for lasting personal relationships alongside professional ones
Share this post via:
---