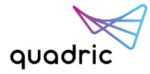 Description
Quadric has a great team of highly talented folks who have created an innovative general purpose embedded neural processing unit (GPNPU) architecture. The Quadric GPNPU is targeted to run neural network (NN) inference workloads plus C++ DSP functions in a wide variety of edge and endpoint devices, ranging from battery operated smart-sensor systems to high-performance automotive or autonomous vehicle systems. Unlike other NPUs or neural network accelerators in the industry today that can only accelerate a portion of a machine learning graph, the Quadric GPNPU executes both NN graph code and conventional C++ DSP and control code. Quadric licenses the GPNPU processor IP to both semiconductor companies and system OEMs. Quadric's GPNPU simplifies system-on-chip (SoC) architecture by replacing cumbersome two core and three core designs with a single-core subsystem that accelerates complete application code for image, video, audio, radar and other sensor data paths.
If making an impact and having a seat at the table is important to you, this is the opportunity for you. Joining the rapidly-growing team at Quadric to develop the leading ML inferencing & DSP solution for edge & endpoint devices. In this position, you will be a core member of our team, having an opportunity to grow in the company of thought leaders and expert technologists who also happen to be good people you'll want to spend time with.
Responsibilities:
You've been here and done this!!.. Your ability to communicate at all levels of the organizations, using the latest industry systems and tools to ensure meaningful, effective collaboration that leads to success for all parties.
Requirements
Your Personal Qualities….
Resourceful Achiever: self-motivated and proactive, you flex to try new approaches and creatively solve problems
Avid Learner: you thrive with challenges, seek continuous growth and improvement, and seek data to prove your hypotheses
Devoted Professional: you are diligent and deliberate in your work, leveraging your expertise to deliver results without ego
Thoughtful Collaborator: you build relationships across teams, offering help and welcoming ideas from others to drive work forward in an inclusive manner
Your Experience…
B.S in Computer Science or EE (or equivalent experience).
7+ years of Semiconductor IP Sales experience in the field of embedded processors (CPUs/GPUs/DSPs/accelerators) in a consultative selling environment is required. Experience directly with machine learning compilation flows is desirable.
Recent semiconductor and/or electronics systems business relationships with top tier companies in the areas (in order of importance): Consumer (e.g. Cameras), ADAS/AD and/or Industrial
Benefits
Provide competitive salaries and meaningful equity
Provide a politics-free community for the brilliant minds who want to make an immediate impact
Provide an opportunity for you to build long term career relationships
Foster an environment that allows for lasting personal relationships alongside professional ones
Great choices of Health, Dental & Vision plans
401k
Quadric is proud to be an equal opportunity workplace and is an affirmative action employer. We are committed to equal employment opportunity regardless of race, religion, sex, national origin, sexual orientation, age, citizenship, marital status, or disability.
Share this post via:
---