Physical Design Methodology Engineer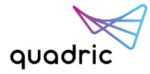 Description
Quadric has created an innovative general purpose neural processing unit (GPNPU) architecture. Quadric's co-optimized software and hardware is targeted to run neural network (NN) inference workloads in a wide variety of edge and endpoint devices, ranging from battery operated smart-sensor systems to high-performance automotive or autonomous vehicle systems. Unlike other NPUs or neural network accelerators in the industry today that can only accelerate a portion of a machine learning graph, the Quadric GPNPU executes both NN graph code and conventional C++ DSP and control code.
If making an impact and having a seat at the table is important to you, this is the opportunity for you. Join our small, rapidly-growing team at Quadric to develop supercomputer technology designed for the Edge. In this position, you will be a core member of our team, and will have an opportunity to grow in the company of expert technologists who also happen to be good people you'll want to spend time with.
What We Value:
Integrity, Humility, Happiness
What We Expect:
Initiative, Collaboration, Completion
Role
As a member of our physical design methodology team you will be tasked with developing physical design methodologies and automation scripts for multiple design configurations across multiple process nodes.
Responsibilities
Develop Quadric processor IP implementation scripts from RTL to GDS across multiple advanced process nodes.
Preform test chip tape outs as necessitated by architecture innovation.
Collaborate with the architecture team to optimize PPA.
Requirements
MS or Ph.D. in Electrical Engineering with a minimum of eight years of CPU/GPU/ASIC implementation
Proficiency in TCL scripting
Proficiency in chip front-end and back-end implementation tools such as Design Compiler, PrimeTime, ICC2 & Fusion Compiler.
Experience with 16nm and below process technologies.
Nice to haves:
Knowledge of lower power digital design techniques.
IP integration experience.
Experience in data parallel hardware design for high-performance computing
Benefits
401k, Medical, Dental & Vision coverage
Provide competitive salaries and meaningful equity
Enable a politics-free community for the brilliant minds who want to make an immediate impact
Provide an opportunity for you to build long term career relationships
Foster an environment that allows for lasting personal relationships alongside professional ones
Founded in 2016 and based in downtown Burlingame, California, Quadric is building the world's first supercomputer designed for the real-time needs of edge devices. Quadric aims to empower developers in every industry with superpowers to create tomorrow's technology, today. The company was co-founded by technologists from MIT and Carnegie Mellon, who were previously the technical co-founders of the Bitcoin computing company 21.
Quadric is proud to be an equal opportunity workplace and is an affirmative action employer. We are committed to equal employment opportunity regardless of race, religion, sex, national origin, sexual orientation, age, citizenship, marital status, or disability.
Share this post via:
---