Digital Physical Design Engineer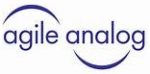 Website Agile Analog
Agile Analog is revolutionising the way Analog circuits are designed. Based in Cambridge but with the ability to work flexibly, we are growing quickly to become one of the world's leading semiconductor IP companies. Using our innovative core technology, we are able to design circuits faster, to a higher quality, and on any silicon process.
We are disrupting methodologies that have been unchanged for generations and if you have that similar mindset with the desire to make an impact then play a part in our story.
As a Digital Physical Design Engineer, you will contribute to developing and delivering digital blocks in our mixed-signal IPs and subsystems across a broad range of process nodes down to advanced lower-geometry processes. You will be primarily working on the physical implementation, verification and timing signoff of the digital IP blocks, as well as creating various digital views for IP integration.
Additionally, you will also have the opportunity to gain experience in all aspects of digital design flow such as digital design and verification. Working with our team of highly experienced digital and analogue engineers, you will learn the best practices and techniques from industry's experts and develop an increasingly comprehensive set of skills over time. As automation is core to our technology, you will help identify automation opportunities in our digital infrastructure to improve efficiency of design process and enhance design quality.
What you will be doing
Performing full implementation of digital blocks including Synthesis, Floorplanning, Place&Route, CTS and timing constraints development.
Using industry leading EDA tools and techniques to optimize the designs for best performance, power and area, and driving the designs to timing closure and physical verification signoff.
Designing and verifying digital blocks in mixed-signal IPs and subsystems.
Developing and automating our digital and mixed-signal design implementation tool flows and infrastructure.
Characterising our mixed-signal IPs and standard cells, as well as creating necessary digital views for customers to seamlessly integrate our IPs into their top-level designs.
Working collaboratively and proactively with other technical leaders and engineers internally and externally.
Requirements
What we need from you:
Understanding of IC design fundamentals.
Strong analytical and problem-solving skills.
Knowledge of hardware languages such as Verilog, SystemVerilog
Proficient in programming and scripting automation (e.g. python)
Excellent communication and interpersonal skills.
Excellent time management and organisational skills.
Even better if you have:
Experience in digital design, verification, Synthesis, UPF, DFT, Place&Route, CTS, STA, DRC/LVS, IR drop analysis, EM, logic equivalence checking etc.
Knowledge of IC manufacturing process.
Experience in SPICE simulations.
Software development skills in a Linux environment.
Analog circuit design and layout experience.
Benefits
What we offer in return:
As well as the opportunity to really contribute to getting things done we also offer a comprehensive salary and benefits package including:
A friendly, supportive and inclusive working environment
The option to work remotely with home set-up assistance
Flexible work hours to fit around your personal commitments
Professional development and professional society membership
25 days' annual leave with the option to purchase additional days
Company pension scheme (with a salary sacrifice option)
Private health insurance (including optical and dental cover)
Life Assurance
Cycle-to-work scheme
Employee Assistance Programme – free wellbeing and health services
If the above role matches your experience, skills and motivations then we would love to hear from you. Please submit your cv along with your salary expectations and we will be in touch shortly
Share this post via:
---