Digital IC Design Architect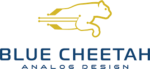 Blue Cheetah Analog Design
Blue Cheetah Analog Design Inc. is a growing, technology start-up headquartered in Sunnyvale, California. Our mission is to generate state-of-the-art in package die-to-die semiconductor IP solutions for the rapidly growing chiplet ecosystem. We accomplish this by providing high performance chiplet interface semiconductor IP to our global customers allowing them to reshape their product roadmaps to a more agile and cost effective chiplet based approach. Join our team to help usher in the chiplet era of semiconductor-based products.
We provide a professional benefits package including medical, dental, vision, 401K plan with company match as well as generous holiday & vacation leave. Join a team where your impact to the collective success will be clear and the big company politics do not exist.
Description:
• Digital IC Design Architect responsible for all aspects of the digital design/architecture development for our die-to-die IP connectivity solutions
• Work alongside fellow architects, analog, digital, software and CAD engineer team members to create and maintain a world class differentiated product.
• Foster/maintain/coordinate an outsourcing network to help augment the existing team as a balance of in-house and outsourced talent
• We are headquartered in Sunnyvale, but this position will allow for the right candidate to work for us remotely (US locations only, with authorization to work in the US).
Requirements:
• BSc, MS or Ph.D. in electrical engineering/computer engineering
• Hands-on experience in digital design, development leading to production of high-volume IC designs with 15+ years of industry relevant experience
• Thorough understanding of the entire digital design flow from architecture, RTL design, verification, synthesis, place and route, DFX, etc, resulting in successful customer products
• Writing detailed executable internal specifications, completing implementation in RTL and evaluating synthesis results for performance and power
• Ensuring robust and complete timing constraints and evaluating STA results
• Working with system and silicon validation team during development, bring-up and characterization phases
• Strong oral and written communication skills with the ability to technically represent our designs and future solutions with industry peers and customers
• Protocol knowledge in wired communication standards with evidence of successful implementation (e.g. SerDes, DDR, UCIe and/or BoW die-to-die PHYs, etc.)
• Team player with self-starter drive to figure out better ways to solve problems.
Job Detail Overview:
• Technically lead our talented digital design engineering group with your broad and deep protocol knowledge
• Participate in cross functional design architect sessions innovating robust solutions that enable the success of our customers
• Develop solutions that allow our customers superior ease of integration and programmability
• Work with the DV team to review and execute verification test plan
• Establish and own a regimented system of insightful status reporting and drive internal code and verification reviews
[Note: We do not expect anyone to have all the listed skills and encourage those with some to apply]
Equal Opportunity:
Qualified applicants will receive consideration for employment without regard to, and will not be discriminated against based on race, sex, religion, national origin, sexual orientation, gender identity, disability, or protected veteran status.
Share this post via:
---