Deep Learning Compiler Engineer
Full Time
Applications have closed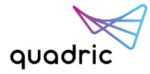 Role:
As a senior member of our platform software engineering team, you will be tasked with lowering and optimizing neural networks on the quadric EPU. You will design and implement algorithmic optimizations to extract maximum performance out of the Quadric architecture.
Responsibilities:
Drive the lowering and optimization of cutting edge deep neural networks using Quadric's technology
Apply your skills and expertise in mathematical & algorithmic optimization toward solving NP-hard problems
Collaborate within the software team to develop algorithms that optimize graph-based execution on the Quadric architecture
Requirements
MS or Ph.D. in Computer Science, or related field, with a minimum of eight years of experience in the industry
Strong background in numerical and/or algorithmic optimization
Understanding of building application-appropriate heuristics for NP-hard problems
Knowledge of both classical as well as ML algorithms, e.g., Computer Vision, DSP, DNNs, etc.
Strong background in graphs and related algorithms
Nice to haves:
Proficiency in C++ >= 11
Experience using / developing in TVM
Knowledge of front-end and back-end compiler techniques
Expected Outcomes in 12 months:
Develop a deep understanding of the hardware platform and low level software and leverage that for optimal performance of applications.
Have a proven track record of implementing optimization passes for efficient lowering of deep learning and high performance computing algorithms on the Quadric EPU parallel processor.
Benefits
Provide competitive salaries and meaningful equity
Provide a politics free community for the brilliant minds who want to make an immediate impact
Provide an opportunity for you to build long term career relationships
Foster an environment that allows for lasting personal relationships alongside professional one
Share this post via:
---