Analog Generator Developer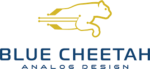 Blue Cheetah Analog Design
Blue Cheetah Analog Design Inc. is a growing, technology start-up headquartered in Sunnyvale, California. Our mission is to generate state-of-the-art in package die-to-die semiconductor IP solutions for the rapidly growing chiplet ecosystem. We accomplish this by providing high performance chiplet interface semiconductor IP to our global customers allowing them to reshape their product roadmaps to a more agile and cost effective chiplet based approach. Join our team to help usher in the chiplet era of semiconductor-based products.
We provide a professional benefits package including medical, dental, vision, 401K plan with company match as well as generous holiday & vacation leave. Join a team where your impact to the collective success will be clear and the big company politics do not exist.
[Note: We do not expect anyone to have all the listed skills and encourage those with some to apply]
Description:
Blue Cheetah is looking for analog designers with strong software skills, preferably in Python and general scripting.
Candidate will work closely with expert circuit architects to develop generators for rapidly producing signoff quality design instances.
Work alongside other analog, digital, and software engineers at Blue Cheetah to push the bounds on design efficiency of mixed signal ASICs / SoCs.
Learn and grow with our start-up team of 20+ people, comprised of globally-recognized circuit and analog/mixed-signal IP experts, in a thriving and exciting environment
Requirements:
BS, MS, or Ph.D in electrical engineering and/or computer science
Fundamental knowledge of analog / mixed signal designs
Software engineering skills, experience in OOP, scripting, experience using git, and Python programming
Innate drive to figure out a better way to do things
Plus Skills:
Tape-out experience
Strong fundamentals in algorithms
Digital, SoC design expertise
CAD tools and methodologies
Silicon bring-up and testing expertise
Equal Opportunity:
Qualified applicants will receive consideration for employment without regard to, and will not be discriminated against based on race, sex, religion, national origin, sexual orientation, gender identity, disability, or protected veteran status.
Share this post via:
---