THE WORLDWIDE SEMICONDUCTOR MARKET IS EXPECTED TO INCREASE 5.1 PERCENT IN 2020, ACCELERATING TO 8.4 PERCENT IN 2021​
Worldwide Semiconductor Market is forecasted to be US$ 433 billion in 2020 - an increase of 5.1 percent from 2019​
The World Semiconductor Trade Statistics (WSTS) has released its new semiconductor market forecast generated in November 2020.
WSTS expects the world semiconductor market to be up by 5.1 percent to US$ 433 billion in 2020. This reflects expected growth in all major product categories, except Optoelectronics and Discrete Semiconductors. The largest growth contributors are Memory with 12.2 percent, followed by Sensors with 7.4 percent. In 2020, Americas and Asia Pacific regions are expected to grow.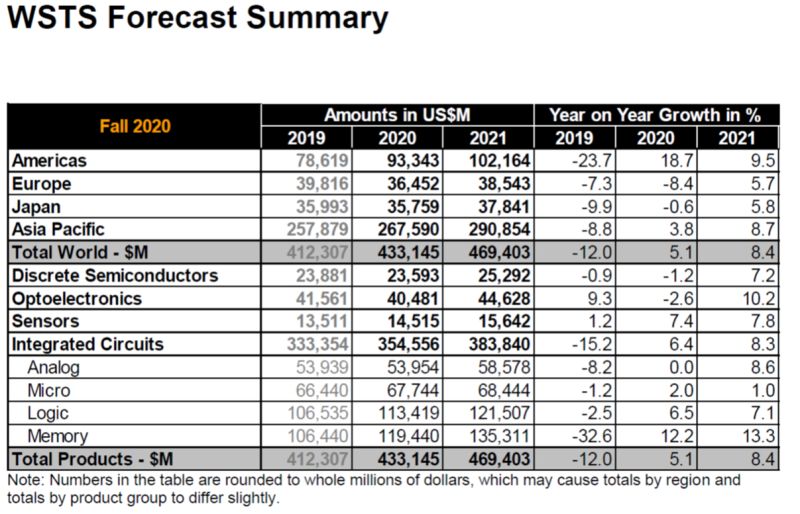 Worldwide Semiconductor Market growth is expected to accelerate in 2021​
For 2021, the global semiconductor market is projected to grow by 8.4 percent, driven by double-digit growth of Memory and Optoelectronics. All other product categories are also expected to show positive growth rates. All regions are expected to grow in 2021.
The semiconductor market overall is not that negatively impacted by the COVID-19 pandemic as originally expected earlier this year.
About WSTS:​
World Semiconductor Trade Statistics (WSTS was founded in 1986 as a non-profit organization of semiconductor product companies and is the industry´s only source for monthly industry shipment statistics.