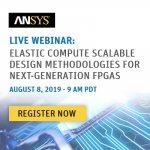 Next-generation field programmable gate arrays (FPGAs) for 5G, AI, automotive, cloud and data center applications are getting bigger, faster and more complex. With the market's continuous demand for higher performance and lower power products, FPGA designers strive hard to achieve stringent power, performance, area and reliability goals to stay ahead of the game. Traditional electronic design automation (EDA) techniques for full-chip critical path timing analysis and power integrity signoff cannot meet the capacity, performance and accuracy requirements for these complex FPGAs. Productivity and project schedules are negatively impacted as a result.
REGISTER HERE
In this webinar, FPGA inventor Xilinx will discuss the many applications for its innovative elastic compute scalable design methodologies, including:
Large design scaling for timing analysis using ANSYS SeaScape
Full-chip EM/IR signoff using ANSYS RedHawk-SC
Accelerated chip-scale interconnect delay calculation for timing capture flow using ANSYS Path FX
Presenters:
Nitin Navale, CAD Manager, Xilinx
Nitin oversees CAD development for a wide range of topics including timing analysis, EM/IR and chip-level construction. He also participates in methodology related to topics like simulation, extraction, thermal analysis and ESD. He earned his B.S. and M.S. degrees in electrical engineering from the University of Illinois, Urbana-Champaign. Before Xilinx, he worked at AMD where he specialized in CAD development for EM/IR and ESD.
Karan Sahni, Senior Area Technical Manager, ANSYS
Karan Sahni is a Sr Manager of Application Engineering at ANSYS with several years of experience in power integrity and reliability design methodologies. He is responsible for supporting leading semiconductor companies in the silicon valley region. He received his MS in Electrical Engineering from Syracuse University NY and BE in Electronics & Communication from Rajasthan University in India.
REGISTER HERE
About ANSYS, Inc.
If you've ever seen a rocket launch, flown on an airplane, driven a car, used a computer, touched a mobile device, crossed a bridge or put on wearable technology, chances are you've used a product where ANSYS software played a critical role in its creation. ANSYS is the global leader in engineering simulation. Through our strategy of Pervasive Engineering Simulation, we help the world's most innovative companies deliver radically better products to their customers. By offering the best and broadest portfolio of engineering simulation software, we help them solve the most complex design challenges and create products limited only by imagination. Founded in 1970, ANSYS is headquartered south of Pittsburgh, Pennsylvania, U.S.A., Visit
www.ansys.com
for more information.