Paul McLellan and I started blogging more than 10 years ago bringing experienced technical semiconductor content to the mass media. In 2011 Paul and I joined forces with other bloggers on SemiWiki.com. Over the next five years Paul wrote 1,127 blogs that have been viewed 6,467,415 times thus far. In October of 2015 Paul went back to the mother ship (Cadence) and he has been blogging daily ever since. Earlier this year Paul published a "best of" book for 2018 and that is what we will talk about in this webinar. Attandees can download a PDF version of the book in the handouts section of the webinar. I hope to see you there!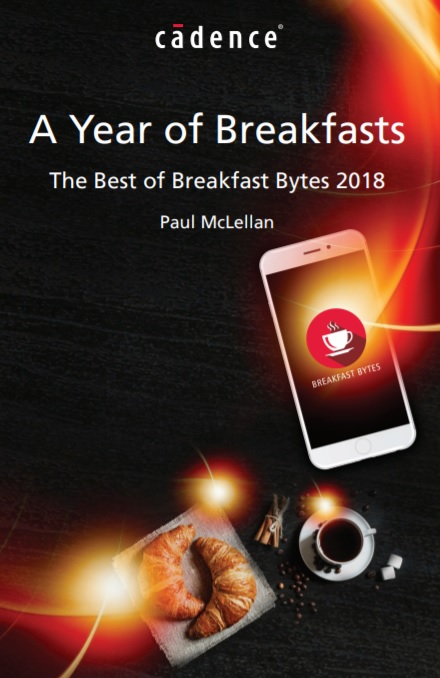 WEBINAR:
Text: A Year of Breakfast Bytes by Paul McLellan (Free PDF Version)
Abstract:
Paul McLellan writes the daily Breakfast Bytes blog on the Cadence website, covering everything from lithography up to embedded software, and end-markets such as automobile and mobile. This book is a collection of some of the most popular blog posts from last year. The book will be reviewed ending with a Q&A with the author.
As Anirudh Devgan, Cadence's President says: "Breakfast Bytes is great way to start your day, with some deep industry knowledge, some education on topics of current interest, and a touch of Paul's special brand of humor. When something interesting happens in the world of technology, Paul breaks it down, explains it in simple and sometimes amusing terms, and leaves us all a little bit smarter. From computer architecture to 5G to the best gin-and-tonics of Barcelona, Paul adds a little fun and color to the topic of the day and keeps you entertained while also teaching you something."
Last edited: