A Counterpoints Research study has determined that TSMC has 28% of the market share in matured nodes (40nm and below), making it the world leader in the global semiconductor manufacturing market. UMC, SMIC and Samsung take second, third and fourth place with market shares of 13%, 11% and 10%, respectively.
A study conducted by market research firm
Counterpoint Research
sheds some light on the global semiconductor manufacturing situation. As expected, TSMC leads the market with a total share of 28%. Taiwan-based UMC ranks second with 13% market share, primarily due to its investment in legacy process nodes (40nm and above). SMIC comes in third with an 11% share, followed Samsung and Global Foundries at 10% and 7%, respectively.
TSMC's hegemony over the semiconductor market is hardly surprising, considering that it makes silicon for industry bigwigs such as
Apple
, Nvidia, and AMD. Intel is expected to
join that party
in 2022, once TSMC's 3nm process is fully functional. However, TSMC is unable to keep up with additional demand from the likes of AMD. That is why it has about US$28 billion set aside for expansion plans. A good chunk of that amount will go towards furthering its EUV (extreme-ultraviolet lithography) processes. The rest will likely be used to set up additional manufacturing plants to ramp up production.
Although China-based SMIC now has its
in-house 7nm process node
, its prospects look grim due to its addition to the U.S Government's
entity list
. If the decision isn't reversed, SMIC runs the risk of fading into obscurity. It may even have to
divest some assets
like Huawei to stay afloat. Samsung could occupy the market void left by SMIC, due to the US$10 billion investment in its 3nm node. AMD already
plans on outsourcing
some of its GPU and APU manufacturing to Samsung. Lastly, the report also prophesizes that Intel's initial 7nm yields will be less than ideal due to the lack of in-house EUV tools.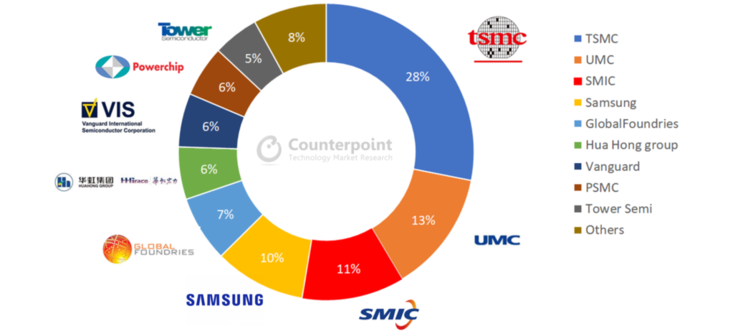 Global semiconductor market share (image via Counterpoints Research)