Samsung, TSMC, and Intel are all in competition to reduce the size of semiconductors
Taiwan's TSMC, the world's No. 1 foundry player, has begun developing a 2-nm process, widening its gap with its competitors. As competition for taking the lead in the ultra-fine process has been narrowed down to a three-runner race among TSMC, Samsung Electronics, and Intel, the three are expected to run neck and neck.
On June 6, Taiwanese media outlets and semiconductor industry sources said that TSMC recently began preparations for trial production of 2-nm products for Apple and Nvidia. To develop the 2-nm process, TSMC will send about 1,000 research and development (R&D) personnel to Fab 20 under construction in Hsinchu Science Park in northern Taiwan.
Previously, Samsung Electronics began volume production of 3-nm chips through a gate-all-around (GAA) process in June 2022, six months ahead of TSMC and a world first. Shocked by Samsung's preemptive strike, TSMC executives publicly revealed their plan for a 2-nm process several times, triggering an ultra-fine fabrication race.
Intel, which announced its plan to re-enter the foundry business in 2021, has also joined the ultra-fine fabrication race. The U.S. semiconductor giant began to expand its presence in the foundry industry by announcing a technical overview, test data, and a roadmap on its wafer backside power supply solution, "PowerVia," in an online event on June 1 (local time). TSMC is also reportedly developing the technology to deliver power to the back of semiconductors with the goal of using it by 2026.
Intel has set a goal of advancing its foundry process from the current 7-nm range to the 20A (2 nanometer) range in the first half of next year and the 18A (1.8 nanometer) range in the second half. In March, the company laid out a plan to develop a next-generation mobile system-on-chip (SoC) using the 1.8-nanometer process by forging a partnership with ARM. However, there is some pessimism among industry insiders that even if Intel succeeds in the process according to the roadmap, it will be a big challenge for the company to attain the desired yield to break even.
"Samsung is currently one year behind TSMC in 3-nm semiconductor production and two years behind in 4-nm semiconductor production," said Kyung Kye-hyun, president of the DS Division at Samsung Electronics, in a lecture at KAIST in Daejeon in early May. "Our goal is to catch up with TSMC when TSMC starts a 2-nm GAA process," Kyung said. Since Samsung Electronics started GAA technology first, the Korean chip maker plans to catch up with TSMC and gain technological advantage over the Taiwanese foundry giant beginning from a 2-nm process to which TSMC will start applying GAA technology.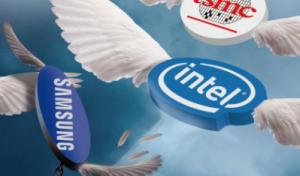 Taiwan's TSMC, the world's No. 1 foundry player, has begun developing a 2-nm process, widening its gap with its competitors. As competition for taking the lead

www.businesskorea.co.kr