The tech press covered Qualcomm's "Snapdragon Night" which introduced the Snapdragon 8+ Gen 1. What maybe interesting to us is that we can (kinda) compare TSMC 4nm vs Samsung Foundry 4nm process using the Snapdragon 8 Gen 1 chip. This hasn't happened since the Apple A9 processor back in 2019 and those metrics are the basis used for Scotten's wonderful foundry node comparison articles!
Here are a few interesting article snippets below...
"[D]iving into the specifications, the new Snapdragon 8+ Gen 1 is essentially the original Snapdragon 8 Gen 1 ported over from Samsung's 4nm line over to one of TSMC's 4nm lines. Under more normal circumstances, this kind of a shift would likely be unremarkable – or at most, an amusing exercise in looking for edge cases – however for Qualcomm's flagship SoC, the matter is more significant.
...
While official sources and statements on the quality of Samsung's 4nm process are few and far between, unofficially, it's become clear that Samsung's 4nm process hasn't lived up to expectations. This has caused a cascading impact on the chips made on the process node, leading to the original Snapdragon 8 Gen 1 developing an affinity for power consumption, and Samsung's own Exynos 2200 not faring any better. Conversely, by all accounts TSMC's N4 process is looking great, with the optically shrunk node building off of TSMC's already successful and very performant 5nm technologies." - Anandtech
"The company said the chip will provide "

10 percent faster CPU performance

," thanks to a 200 MHz peak CPU boost (up to 3.2 GHz now) and a

10 percent faster GPU

.

The real shocker is a "30 percent improved power efficiency" claim for the CPU and GPU.

For the Snapdragon 8 Gen 1 Plus, Qualcomm is moving the chip from Samsung Foundry to TSMC, which is apparently where the power improvements are coming from. That's a serious slam against Samsung's 4 nm process versus TSMC's 4 nm process, but it lines up with earlier reports of troubles at Samsung Foundry."

Swapping foundries as part of a mid-cycle upgrade is not normal

, and it seems that Qualcomm has a bit of a salvage operation on its hands with the Snapdragon 8 Gen 1. The chip has not fared very well in the real world, with the CPU

regularly turning in

lower benchmark scores than 2021's flagship Snapdragon 888. - Ars Technica
Sources: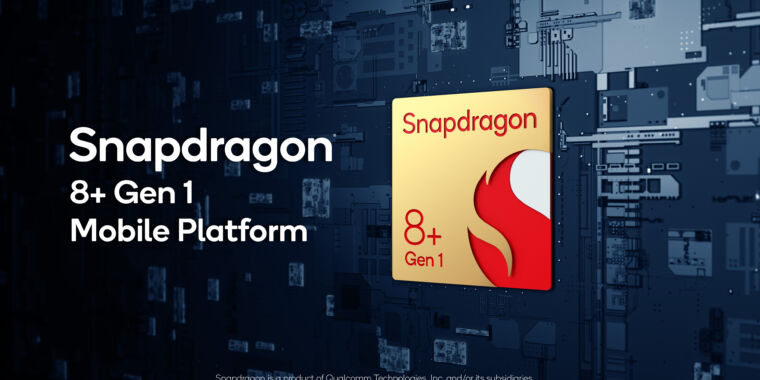 After missing performance estimates, Qualcomm is dumping Samsung mid-cycle.

arstechnica.com
Last edited: