Administrator
Staff member
Silicon Valley, California, and London, England - June 7, 2023
- Silicon Catalyst, the world's only incubator focused exclusively on accelerating semiconductor solutions, announces the admission of four companies into the semiconductor industry's highly acclaimed program.
The newly admitted companies include:
​
- Cambridge Terahertz
Democratizing the Terahertz spectrum through CMOS phased array technology
- Liitto
Computing Solutions for the Clean Energy Era
- Veevx
Intelligent Memory Chiplets
- weeteq
The "tiny" embedded technology company
Silicon Catalyst has developed an unparalleled support ecosystem for its semiconductor start-ups, providing a strong network of Strategic Partners, technical & business advisors, and industry professionals who help companies to launch and scale in the market. In addition, the incubator's In-Kind Partners provide privileged access to services, expertise, and intellectual property that can help commercialize their companies' technological innovation.
"Our most recent applicant screening cycle was truly spectacular, with a record number of entrepreneurial teams from 14 countries looking to participate in our 24-month incubation program," stated Paul Pickering, Managing Partner at Silicon Catalyst. "These four companies exemplify our mission to assist in building out the next generation of semiconductor-based solutions to address the significant market challenges and opportunities in the areas of communications, energy, IoT and embedded systems."
Cambridge, Massachusetts
Dr. Nathan Monroe, CEO
Dr. Refael Whyte, CPO
www.thzcorp.com
Utilizing the Terahertz spectrum to save and improve lives on a global scale
Cambridge Terahertz was spun out of MIT in 2021 with the mission to bring Terahertz technology to the world. Our Terahertz CMOS phased array technology is setting orders-of-magnitude performance records, enabling low-cost and widely deployed Terahertz wireless systems, unlocking the benefits of this untapped frequency range. The list of impactful/lucrative markets for such a tech is extremely long but we are beginning with imaging, starting with the physical security and loss prevention markets. We're building a future where detection of weapons and contraband is ubiquitous and blends into the background.
New York, NY
William Layden, Co-founder & CEO
www.liitto.tech
Computing Solutions for the Clean Energy Era
Liitto builds hardware that transforms low-priced and wasted clean energy into a valuable computational resource. Our unique solution helps solar and wind power plants address the $11 billion annual problem of value deflation and curtailment. Simultaneously, we provide a path to decarbonize the fast-growing, energy-intensive fields of computation, ranging from Bitcoin Mining to AI Training.
www.veevx.com
Mesa, Arizona
Douglas Smith, Founder & President
Intelligent Memory Chiplets
Veevx Intelligent Memory (iRAM) Chiplets combine high performance, high density, and ultra-low power enabling the next generation in memory technology to service the demands from a wide variety of markets. iRAM performance and non-volatility enables replacement of large block SRAM with 100X reduction in deep sleep power and 2X improvement in density. The Veevx Intelligent Memory product family spans memory densities from 2MB to 128MB and supports 3D and 2.5D packaging options with a configurable Chiplets interface.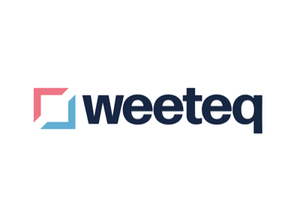 Glasgow, Scotland
Dr. Taner Dosluoglu, Founder & CEO
www.weeteq.com
The 'tiny' embedded technology company
weeteq is pioneering a new approach to circuit design for industrial applications, optimizing operational performance and unsupervised machine learning, for every closed-loop control system, changing the way industries approach digital transformation. Ultra Edge® technology introduces circuit-level artificial intelligence, which solves real-world industrial-scale challenges, reducing cost and energy expenditure, whilst increasing productivity and uptime of assets. Our goal is for our 'tiny', embedded technology to become a ubiquitous presence within the circuits and components of Industry 4.0 solutions.
---
About Silicon Catalyst
"It's about what's next"
Silicon Catalyst is the world's only incubator focused exclusively on accelerating semiconductor solutions, built on a comprehensive coalition of in-kind and strategic partners to dramatically reduce the cost and complexity of development. More than 900 startup companies worldwide have engaged with Silicon Catalyst and the company has admitted 97 exciting companies. With a world-class network of mentors to advise startups, Silicon Catalyst is helping new semiconductor companies address the challenges in moving from idea to realization. The incubator/accelerator supplies startups with access to design tools, silicon devices, networking, and a path to funding, banking and marketing acumen to successfully launch and grow their companies' novel technology solutions. Over the past eight years, the Silicon Catalyst model has proven to dramatically accelerate a startup's trajectory while at the same time de-risking the equation for investors. Silicon Catalyst has been named the Semiconductor Review's 2021 Top-10 Solutions Company award winner.
The Silicon Catalyst Angels was established in July 2019 as a separate organization to provide access to seed and Series A funding for Silicon Catalyst portfolio companies.
More information is available at
www.siliconcatalyst.uk
,
www.siliconcatalyst.com
and
www.siliconcatalystangels.com
.
Link to Press Release