Semiconductors are ubiquitously present in every electronic gadget, and their use continues to grow. In 2020, 946,312 million (946,312,000,000) were made. This included 306,407 million ICs.
Chips touch everyone's lives, so a shortage in these chips cuts a broad swath across the world economies. Recently, a diverse number of companies have complained that a chip shortage was impacting business, including:
Sony (SNE) and its PlayStation 5 gaming console
Corsair Gaming (CRSR) and its gaming components
Qualcomm (QCOM) and its 4G and 5G wireless devices
General Motors (GM) which will idle three of its manufacturing plants in North America
Ford (F) cut shifts at its truck plants producing the highly profitable F-150, citing the global automotive chip shortage
Fiat Chrysler is idling production at a Brampton, Ontario, plant
Subaru will trim "several thousand" vehicles from its production schedule at plants in the U.S. and Japan
What Caused The Shortage​
The WSTS (World Semiconductor Trade Statistics) segments semiconductors and integrated circuits ("ICs") in several categories. In Chart 1, I present, on a "MoM" basis, changes in shipments of various types of chips, which include:
Discretes
Analog
Microprocessors
Microcontrollers
Logic
Memory
Chart 1, presenting three month moving average (3mma) shipments between July 2019 and December 2020, shows shipments began dropping in Q1 2020 due to Covid-19 and automakers reduced production and chip purchases. Shipments reached a low in June, followed by an increase to September 2020, and then a drop from October through December as the second wave of Covid-19 hit.
In tandem, the work/study stay-at-home edicts resulted in increased demand for PCs, remote video conferencing, game stations, and server bandwidth, which created demand for semiconductors for these applications in the absence of automotive demand.
Interestingly, variations in individual chip shipments differed significantly in amplitude and in peaks and valleys.
Chart1
I plot "YoY" shipment changes in Chart 2 rather than MoM (Chart 1). Here we see from a different perspective the drop in shipments in March and April 2020 and a rapid recovery in Q3 and Q4.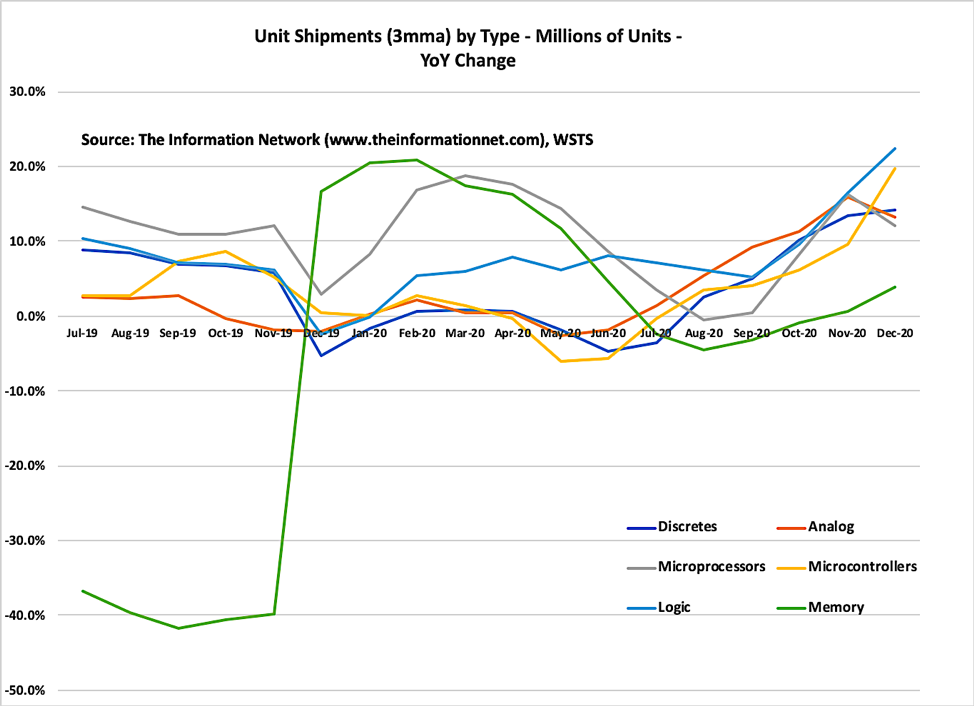 Chart 2
Chart 3 shows total ICs (rather than total semiconductors) in the same July 2019 to December 2020 (blue column) period and shows "MoM" shipment changes (orange line). ICs make up Analog, Microprocessors, Microcontrollers, Logic, and Memory and these are combined in the Chart.
Here we can readily discern the decrease in chip unit shipments in Q1 2020 due to Covid-19. Monthly changes in shipments became positive in July 2020 and increased for only the next three months until slowing in September through the year.
Chart 3
Chart 4 shows the same shipments (red bar) as Chart 3, but the orange line shows "YoY" changes in shipments, illustrating the increase in shipments once the initial impact of Covid-19 slowdown was alleviated.
It also shows the how shipments of ICs continued to increase. IC shipments increased from 290,189,000,000 units in 2019 to 306,407,000,000 in 2020, an increase of 5.6%.
Chart 4
Automotive IC Sector​
Thousands of different chips used in automobiles, but they all are segmented into these categories. For example, MOSFETs and IGBT drive a variety of electric motors, powering everything from heating and ventilation systems to windows and windshield wipers. Even the seat adjustment and the sunroof features are performed with the assistance of a MOSFET. They are categorized as "Discretes" and the largest unit shipments in Chart 1. According to The Information Network's report entitled "Power Semiconductors: Markets, Materials and Technologies," it is a $20 billion market.
The second largest component are "Analog", with 171,534,000,000 chips sold in 2020. In automotive applications, they are used for applications including infotainment, cabin/control electronics, safety electronics (e.g. airbags, ABS, LIDAR, back-up and circumferential camera systems, power train/engine management electronics, security electronics. active suspension, and LED lighting for automotive head/tail lights, according to WSTS.
Table 1 shows my analysis of the automotive semiconductor market, including a forecast to 2022. The data show the growth of automobile semiconductors, including the drop in 2020 of 2.6%, which is tied to an 8.9% drop in global automobile production. Nevertheless, the semiconductor content per vehicle continues to increase.
The semiconductor content data in Table 2 are further segmented by the types of applications for semiconductor chips on a percentage basis. One of the strongest growth segments is Advanced Driver-Assistance Systems ("ADAS"), which are electronic systems that assist drivers in driving and parking functions. According to The Information Network's report entitled "Hot ICs: A Market Analysis of Artificial Intelligence, 5G, CMOS Image Sensors, and Memory Chips," ADAS system semiconductor content per car is $100 in 2021, representing 19% of the overall semiconductor content of $535 million (Table 1).

Key Semiconductor Companies​
Chart 5 shows market share of the top automotive semiconductor manufacturers in 2018 and 2019. Infineon (
OTCQX:IFNNY
) took over the top spot with the $8.7 billion acquisition of Cypress Semiconductor, which manufactured a differentiated portfolio of microcontrollers as well as software and connectivity.
Infineon-Cypress, NXP Semiconductors (
NXPI
), and Renesas, which together account for nearly 35% of the automotive chip market, all use TSMC (
TSM
) for some of their manufacturing. TSMC now produces about 70% of the microcontroller units used in the world's automobiles.
Chart 5
Chart 6 shows the various types of automotive semiconductors by manufacturer, and the more extensive product lines of Infineon following the merger with Cypress.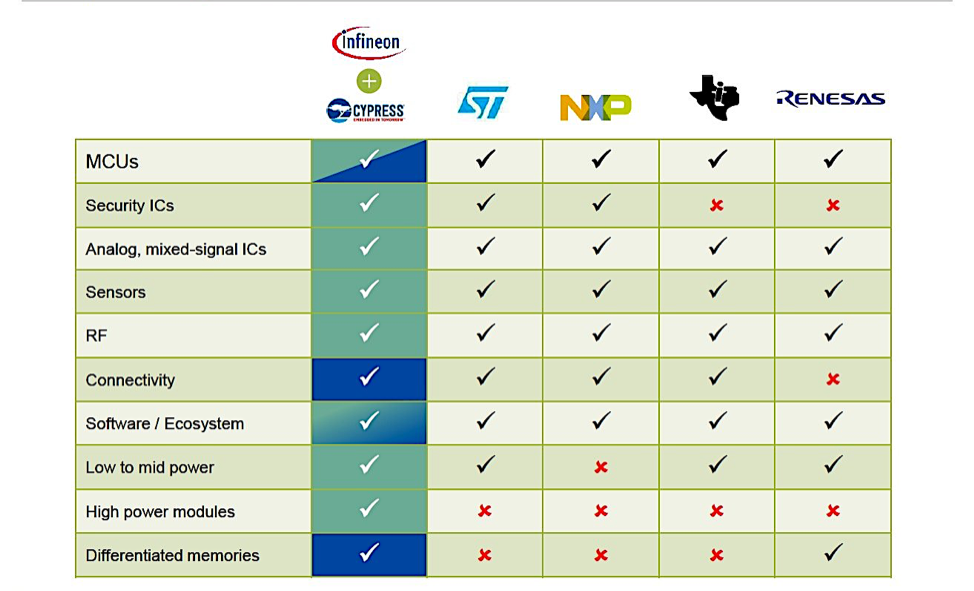 Chart 6
Chart 7 also shows the market shares for 2018 and 2019 for semiconductor "power" semiconductors. As discussed above, this market is largely comprised of MOSFETs and IGBTs in the "Discretes" category of semiconductors.
In this category, Infineon's share decreased to 25.5% in 2019 from 26.2% in 2018, although it maintained its number one ranking. STMicro (
STM
), in second place, gained share in 2019.
Chart 7
Semiconductor Companies Best Positioned for Automotive Recovery​
Table 3 shows all semiconductor manufacturers with automotive chip products. Murata is the top company with$4.5 billion in automotive chip revenues, which represented 32% of its total revenues of $14 billion Murata Manufacturing, the world's largest multi layer ceramic capacitor (MLCC) maker, will secure over 50% market share in MLCC used for electric vehicles and autonomous cars rather than ICE vehicles.
Note that some of these components, such as MLCCs, are not considered semiconductors or ICs, but are used in automotive applications. Therefore, the revenue data in Tables 3 and 4 includes both semiconductors and non-semiconductor components. Thus, these revenues listed do not exactly match revenues in Charts 5 and 7, which are exclusively semiconductors.
NXPI, with 47% of its revenues coming from automotive components, is one of the purest ways to play an upturn in the automotive semiconductor market. The company's focus is on automotive applications such as ADAS, fully-autonomous and powertrain (ICE and EV). The automotive sector represents 8% of global semiconductor consumption, or a $33 billion market niche market.