Administrator
Staff member
Jul 04, 2023
S2C, a recognized leader in FPGA-based prototyping solutions, announces the release of S8-40 Prodigy Logic System, featuring the latest generation FPGA from AMD. Supporting high bandwidth connectivity including PCIe Gen5 and PAM4, S8-40 effectively addresses the verification needs of high bandwidth applications such as storage, AI, and GPU chip designs.
S8-40 Prodigy Logic System offers three high-performance benefits:
- Supports Full-speed PCIe Gen5: S8-40 provides support for PCIe Gen5 x 4 with CXL (EP) and PCIe Gen5 x 8 with CCIX (RC/EP), catering to PCIe-related validation and applications with high bandwidth requirements.
- 56Gbps Data Transfer Capability: Equipped with 104 GTMs at 28 Gbps, 28 GTYPs at 32 Gbps, and 32 GTMs with speeds of up to 56 Gbps, the S8-40 showcases a total bandwidth of 5,600 Gbps.
- Flexible I/O: With high-speed I/O connectors such as Prodigy+, FMC+, PGT+, and MCIO, S8-40 can easily interface with real-world data via application-specific daughter cards, while supporting low-latency inter-FPGA connections.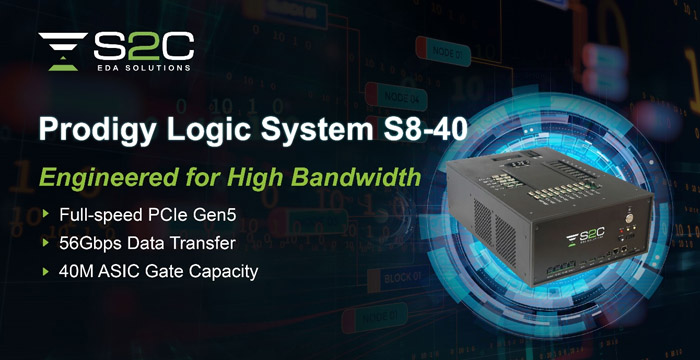 With the increasing adoption of AI, 5G, IoT, and autonomous driving, the demand for low real-time processing is growing more than ever. These applications often require low-latency and high-bandwidth interfaces such as PCIe Gen5 and high-speed interconnect protocols such as CXL and CCIX. In response to these demands, S2C has developed the S8-40 to meet the verification challenges of the new era and help accelerate the time-to-market.
In S8-40, S2C's 8th generation prototyping family, the high-speed I/O are upgraded to offer a total bandwidth of up to 5,600 Gbps over a wide range of connectors. The connectors are also made more granular to ensure that the S8-40 is capable of handling high-bandwidth protocols such as PCIe Gen5, 600G Ethernet MAC, and 600G Interlaken, while supporting flexible FPGA-to-FPGA interconnectivity, for a more efficient verification deployment.
Compared to the previous generation S7-19P, the S8-40 offers a significant increase in internal memory and DSP engine. With 5.37 times more internal memory and 3.73 times more DSP engine, S8-40 is much more optimal and effective for algorithm-based applications such as AI neural network models, autonomous driving, and high-performance computing (HPC).
Design partitioning is also made easier with S8-40. When combined with Player Pro – CT, S2C's partitioning software, S8-40's high-speed transceivers are the ideal solution for high ratio pin-multiplexing to interconnect design partitions, effectively overcoming the I/O limitation of individual FPGAs. Large-scale chip designs can greatly benefit from such flexible partitioning topologies and improved performance.
In addition to multi-FPGA partitioning, S2C also offers a complete productivity toolchain for quick system bring-up, run time management, multi-FPGA debug tool, high bandwidth PC-to-DUT connectivity and an extensive collection of over 90 daughter cards. This cohesive toolset provides users with a comprehensive solution for all their prototyping requirements.
" In the current dynamic market environment, the ability to rapidly develop and showcase our product solutions is critical. S2C's S8-40' provides excellent data transfer bandwidth and algorithm processing capability. Support for PCIe Gen5 is also long-awaited. These features will significantly accelerate our hardware verification and pre-silicon software development."
-- Gordon Ao, CEO of Innosilicon
" Different applications have different needs. Prodigy S8-40 is the first member of our 8th-generation prototyping solution to meet the verification requirements of AI and other bandwidth-intensive designs. S2C is committed to our customers' needs and shortening their design cycle through continuous innovation and agility."
-- Toshio Nakama, CEO of S2C
Availability​
The Prodigy S8-40 is available now. For more information, please contact your local S2C sales representative, or visit:
www.s2cinc.com
About S2C​
S2C is a leading global supplier of FPGA prototyping solutions for today's innovative SoC and ASIC designs, now with the second largest share of the global prototyping market. S2C has been successfully delivering rapid SoC prototyping solutions since 2003. With over 600 customers, including 6 of the world's top 15 semiconductor companies, our world-class engineering team and customer-centric sales team are experts at addressing our customer's SoC and ASIC verification needs. S2C has offices and sales representatives in the US, Europe, mainland China, Hong Kong, Korea and Japan.
Link to Press Release