Administrator
Staff member
Winners will receive awards in the categories of Technology All-Star and Technology Rising Star​
---
Key Highlights
- Soma Chakrabarti, Adetola Wahab, and Karynna Tuan to receive awards during the Women of Color (WOC) STEM Conference
- Awards honor women's outstanding achievements in STEM
---
PITTSBURGH, PA, July 21, 2023
– Three
Ansys
(NASDAQ: ANSS) employees will receive one of industry's most important honors in science, technology, engineering, and math (STEM) during the Women of Color (WOC) STEM Conference — Digital Twin Experience (DTX), which will be held from October 12-14, 2023, in Detroit, Michigan, and online via the Women of Color STEM DTX Platform (
www.wocstemdtx.com
).
The significance of the Women of Color STEM DTX Conference recognition program cannot be overstated, especially considering the projected growth in STEM employment opportunities in the United States. For over two decades, WOC STEM has been celebrating the exceptional contributions of women of color, inspiring the next generation of skilled professionals poised to secure high-wage jobs.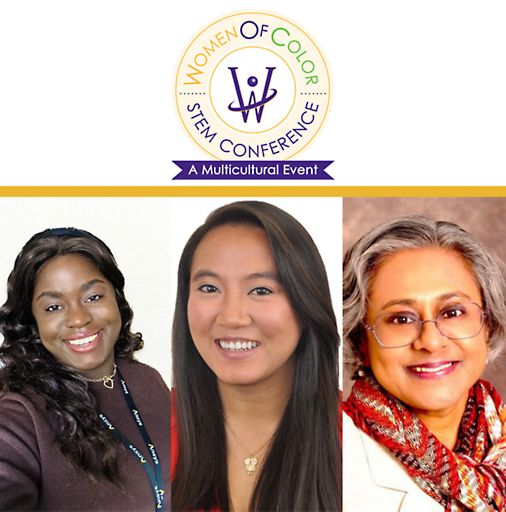 Ansys employees, from left to right, Adetola Wahab, Karynna Tuan, and Soma Chakrabarti recognized by prestigious Women of Color STEM Awards

Ansys is committed to building a diverse, collaborative workplace that represents the full range of perspectives from around the globe. Women make up 50% of CEO Ajei Gopal's direct reports, and 30% of Ansys' board seats are held by women. Ansys also provides employees with opportunities that create a strong foundation for diversity, equity, and inclusion. For example, the Ansys Women in Technology employee resource group fosters career growth, personal confidence, and community so that Ansys can support women in the technology field through cutting-edge training and professional development, engagement with mentors and colleagues, and career advancement.
Ansys' 2023 Women of Color STEM category winners include:
Technology All-Star Category
· Soma Chakrabarti (Lead Education Development Manager)
Technology Rising Star Category
· Adetola Wahab (R&D Documentation Specialist)
· Karynna Tuan (Manager, Application Engineering)
"We have chosen Soma, Adetola, and Karynna as recipients because they are part of an exceptional group of forward-thinking STEM experts," said Tyrone D. Taborn, co-founder of the 2023 Women of Color STEM DTX Conference. "This year's pool of candidates was exceptionally strong and represented a diverse collection of executive professionals."
Since 1995, the Women of Color STEM DTX Conference has been recognizing excellence in STEM and drawing attention to the severe underrepresentation of women, particularly at senior levels, across all disciplines. For nearly three decades, employers committed to fostering inclusivity have chosen the Women of Color STEM DTX Conference as a platform to exchange best practices and strategies aimed at attracting and retaining girls and women in scientific and technical fields.
"Ansys' Women of Color STEM Award recipients reflect our commitment to keep diversity, equity, and inclusion at the foundation of all that we do," said Kathleen Weslock, vice president of human resources at Ansys. "Soma, Adetola, and Karynna are incredibly deserving of this recognition. Their passion for their work and their impressive achievements serve as inspiration to our next generation of technology professionals at Ansys."
During the three-day conference, multiple award presentations will be held to honor distinguished 2023 award recipients for their remarkable achievements in STEM. Throughout the event, the Conference will offer forums on the retention of women and girls in STEM, continuous improvement, and networking opportunities. Registration for the public is open at
www.womenofcolor.net
.
About Ansys​
When visionary companies need to know how their world-changing ideas will perform, they close the gap between design and reality with Ansys simulation. For more than 50 years, Ansys software has enabled innovators across industries to push boundaries by using the predictive power of simulation. From sustainable transportation to advanced semiconductors, from satellite systems to life-saving medical devices, the next great leaps in human advancement will be powered by Ansys.
Take a leap of certainty … with Ansys.
Ansys and any and all ANSYS, Inc. brand, product, service and feature names, logos and slogans are registered trademarks or trademarks of ANSYS, Inc. or its subsidiaries in the United States or other countries. All other brand, product, service and feature names or trademarks are the property of their respective owners.
ANSS-G
About the Women of Color STEM Conference​
The Women of Color STEM DTX Conference is organized by Career Communications Group, Inc. (CCG), a leading advocate for workforce diversity, collaborating with companies of all kinds to promote multiculturalism and gender equity in STEM fields, including science, technology, engineering, and mathematics. For nearly three decades, the Women of Color STEM DTX Conference has remained at the forefront of professional development, networking, and empowerment for women. For more information about the 2023 Women of Color STEM DTX Conference, please visit
www.womenofcolor.net
.
Link to Press Release