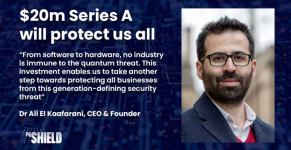 Today, we're thrilled to announce that PQShield has raised $20 million in Series A funding. The round was led by Addition, with participation from existing investors Oxford Science Enterprises (formerly OSI) and Crane.
We'll be using this investment to accelerate the development of our pioneering quantum-ready cryptographic products for hardware, software and communications.
As the world has woken up to the quantum threat to cryptography, we've already seen a surge in demand for our products from sectors including semiconductor, defence, automotive OEM, industrial IoT, and technology consulting. Today's funding will enable us to double down on our efforts against this generation-defining threat to information security.
We've now got people in the UK, the US, France and the Netherlands, and will be expanding into new markets over the next year. Our aim is to double the PQShield team by the end of this year, and we're thrilled to kick this off with the recruitment of Graeme Hickey, formerly of NXP Semiconductors, as our new Senior Director of Hardware Engineering.
With new global standards on the horizon (PQShield's team is leading multiple finalist candidates in NIST's post-quantum standardisation project) and more and more industries recognising the need for future-proof cryptography solutions, 2022 looks set to be a landmark year. We're thrilled to be partnering with our investors on the next step of this journey.
You can read about the news in
TechCrunch
,
VentureBeat
and many others today.