Majority of semiconductor executives forecast growth​
LOOKING TO GROW: A survey showed that 71 percent of executives at chipmakers said that they aim to increase their global workforce this year​
An overwhelming majority of semiconductor executives expect revenue to grow this year, driven mainly by automotive applications that are putting wireless communications to the backseat, a survey released yesterday by global consultancy firm KPMG showed.
Eighty-one percent of respondents said that their company's revenue would increase over the next year, and half of them said they expect growth of more than 10 percent, the survey of 151 global semiconductor executives last quarter showed.
Although lower than last year's 95 percent and 68 percent respectively, the findings are encouraging in light of recent economic uncertainty, inflation, monetary tightening and geopolitical tensions, a KPMG report said.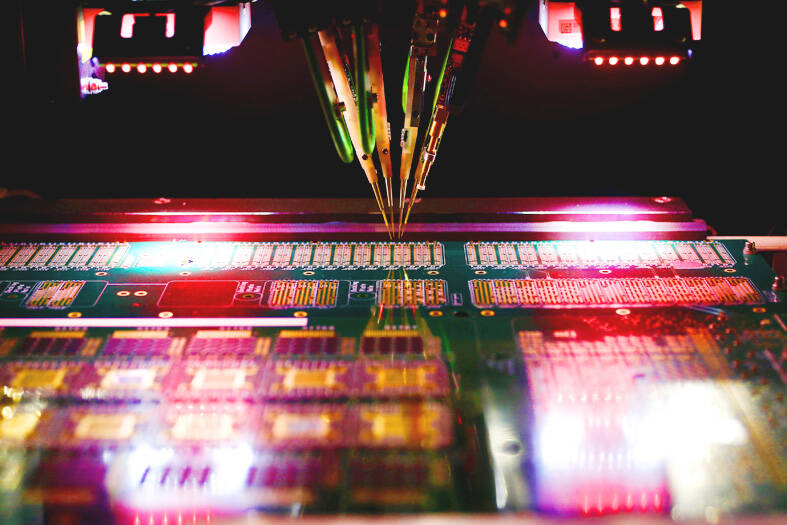 A machine checks a circuit board during a demonstration at Semicon Taiwan in Taipei on Sept. 15 last year.​
Photo: Ritchie B. Tongo, EPA-EFE
Taiwan supplies 60 percent of the world's chips used in smartphones, notebook computers, wearable devices, vehicles, and big data and Internet of Things applications.
KPMG's Semiconductor Industry Confidence Index score is 56 for the upcoming 12 months, the report said, adding that a value above 50 suggests a more positive than negative outlook.
Sixty-four percent of executives forecast that the industry's revenue will pick up this year, significantly lower than last year's 97 percent, it said, citing the war in Ukraine as a contributor to the weaker growth projection.
About 40 percent said they were concerned the war would materially affect industry revenue prospects, higher than 25 percent a year earlier, it said.
For the first time, respondents rated the automotive industry as the most important segment driving company revenue over the next year, it said.
Automotive semiconductor revenue is expected to reach US$200 billion a year by the mid-2030s and surpass US$250 billion by 2040, KPMG had said earlier.
Wireless communications, long seen as the industry's biggest revenue driver, slipped into second place from the previous year, it said.
Internet of Things, cloud computing and artificial intelligence ranked third, fourth and fifth in terms of importance respectively, the survey showed.
The "metaverse" as a segment, which appeared in the survey for the first time, ranked last out of 10 in importance for driving semiconductor revenue over the next year, it said.
The report said that executives might change their view in the coming years as metaverse technology evolves and adoption increases.
Sixty-five percent of respondents said they think a semiconductor supply shortage would ease this year, while 15 percent said they believe that supply and demand is already in balance for most products, and 20 percent said they think the shortage would continue into next year or later.
Regarding when executives expected the next semiconductor inventory glut to occur, 24 percent said they believe there is already excess inventory.
Securing talent is seen as the biggest issue facing the industry over the next three years, with 71 percent saying they would seek to increase their global workforce this year, it said.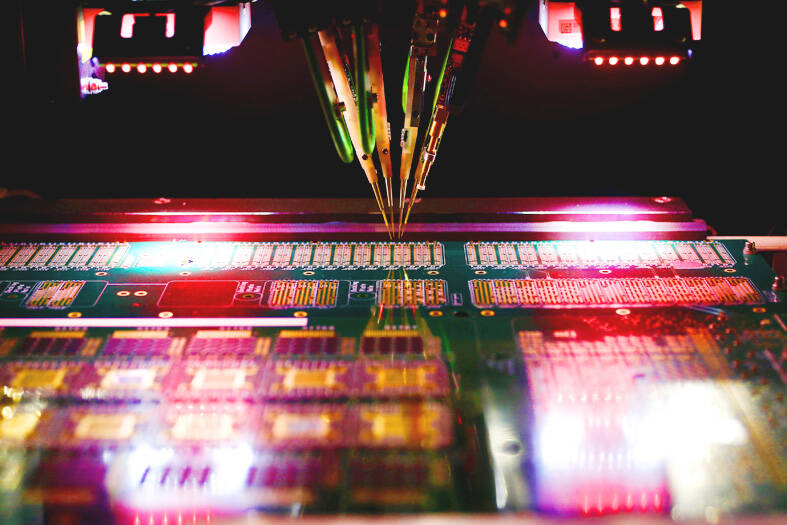 Bringing Taiwan to the World and the World to Taiwan

www.taipeitimes.com