Nova Measuring Instruments (
NVMI
) moved to the top of semiconductor metrology/inspection growth rankings for 2020, registering a YoY growth of 25.2%, following a -14.3% growth in 2019. These figures are based on semiconductor metrology/inspection equipment only, and excludes revenues from service/spare parts and other types of front-end/back-end equipment such as lithography.
ASML (
ASML
) registered a solid performance with an 18.8% YoY growth. These revenues do not include the company's lithography systems, only metrology/inspection systems from a product line acquired from the company's acquisition of Hermes Microvision in 2016.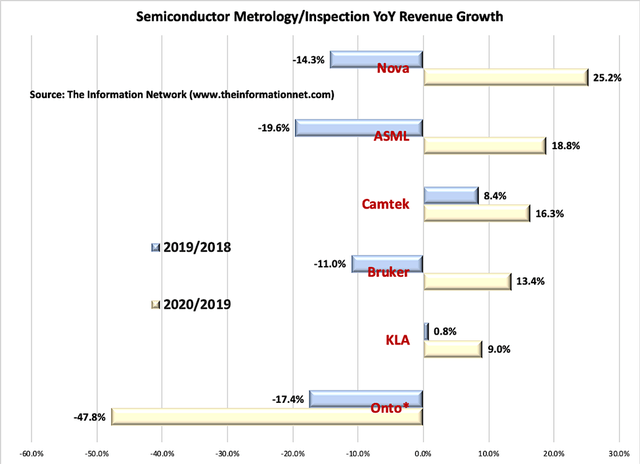 Chart 1
Camtek (
CAMT
) was next with a YoY growth of16.3% in 2020, following a growth of 8.4% in 2019, one of the only companies registering YoY growth in the two successive years. The company is the leader in inspection and metrology in advanced packaging.
Bruker's (NASDAQ:
BRKR
) microelectronics and semiconductor metrology business in its NANO sector grew 13.4% YoY in 2020 following a growth of -11.0% in 2019.
KLA is the dominant metrology/inspection market leader with a share of more than 50% in 2020. YoY growth of 9.0% in 2020 was followed by a growth of 0.8% in 2019. These revenues do not include its non-metrology/inspection equipment sales from its 2019 acquisition of Orbotech.
Onto Innovation (
ONTO
) continues to underperform, with 2020 YoY revenue growth of -47.8% following growth of 17.4% in 2019. I place an asterisk (*) next to the company's name because of the way the company is counting revenues, making 2020 revenue grow appear greater to the uninformed. According to the recent
financial statement
for Onto:
In other words, ONTO's reported revenues for 2019 include all of Rudolph's revenues and only two months of Nanometrics. The companies merged on Oct. 26, 2019, and justify the accounting move according to
ONTO's most recent 10Q
, which states:
"Rudolph and Nanometrics completed the Merger effective October 25, 2019. The Company accounted for the Merger as a reverse acquisition, using the acquisition method of accounting in accordance with U.S. GAAP, with Rudolph being treated as the accounting acquiring entity. The acquired assets and liabilities of Nanometrics were recorded at their respective fair values including an amount for goodwill, which represents the purchase price paid in excess of the fair value of the net tangible and intangible assets acquired and liabilities assumed, and is attributable primarily to expected synergies, economies of scale and the assembled workforce of Nanometrics."
Full details of my analysis are discussed in my Semiconductor Deep Dive Marketplace Newsletter, where I attempt to show that if the full year of Nanometrics and Rudolph were included in the results for 2019, revenues for 2019 would be $494 million and not the $305.9 million in the company's recent financial statement.
So by reducing 2019 revenues by $188 million, ONTO was able to state that revenues grew YoY 81.9% in 2021 instead of just 12.7% had full year revenues of both included.
That's because 2020 revenues combined 12 months of revenues for Nanometrics and 12 months of revenues for Rudolph which the company calls ONTO revenues.
My analysis also is based on Table 1, which shows revenue from our report entitled "Metrology, Inspection, and Process Control in VLSI Manufacturing."