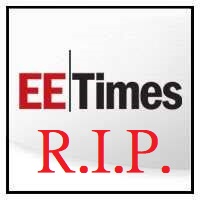 Rick Merritt, Dylan McGrath, Max Maxfield and Steve Taranaovich were all laid off, yet another sign of the mass media times. Rick and Dylan posted farewell messages on LinkedIn:
Rick Merritt
Silicon Valley Bureau Chief, EE Times at Aspencore
Today is my last day at EE Times. It's been a great gig. Stay tuned for where my byline will appear next.

Dylan McGrath
Editor in Chief at EE Times
Tuesday was my final day at EETimes, the publication I have called home (off and on) for 15 years. You can never say never, but something tells me that this time it's for good. What a ride. I've had the honor of working with some of the finest electronics journalists in the world and had a front row seat for the most fascinating industry in the world. There was never a dull day, and I wouldn't change a thing (mostly). But I've got a lot of gas left in the tank. Onward.

Clive (Max) Maxfield
Eeeek Alors! Today is my last day with AspenCore / Arrow Electronics working on their various websites, It's been a blast working with a wonderful group of folks, but now it's time to look at doing something new. Watch this space...
EE Times was launched in 1972 by Gerard G. Leeds of CMP Publications Inc..[2] In 1999, the Leeds family sold CMP to United Business Media for $900 million. After 2000, EE Times moved more into web publishing. The shift in advertising from print to online began to accelerate in 2007 and the periodical shed staff to adjust to the downturn in revenue.

In July 2013, the digital edition migrated to UBM TechWeb's DeusM community platform.[3]

On June 3, 2016, UBM announced that EE Times, along with the rest of the electronics media portfolio (EDN, Embedded.com, TechOnline and Datasheets.com) was being sold to AspenCore Media, a company owned by Arrow Electronics for $23.5 million.[4] The acquisition was completed on August 1, 2016.
From $900M to $23.5M, and now?
I remember reading the printed version of EETimes when I started in semiconductors. I stopped reading not long after they went digital. Several other traditional electronic publishers have gone under. I'm trying to remember all of the publication names but I'm coming up blank. Pretty much everyone in print that went digital?
Last edited: