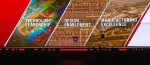 Tuesday 14 July 2020
FocalTech Systems is seeking to secure more 8-inch foundry capacity at TSMC aiming to satisfy robust demand for its TDDI (touch with display driver integration) chips, according to company's CFO James Liao.
After shipping nearly 100 million TDDI chips in first-half 2020, the company expects its shipment momentum to continue into the second half as demand from the smartphone sector is expected to rebound along with an easing of the coronavirus impacts, Liao said.
With more capacity support from TSMC, FocalTech is likely to ramp up its second-half TDDI shipments to 120 million units, bringing total shipments for entire 2020 to 220 million units compared to 100 million shipped a year earlier, Liao noted.
FocalTech is also experiencing robust demand for touch controller ICs for AMOLED panels from clients including Samsung Electronics, according to industry sources.
The company's shipments of AMOLED touch controller ICs to Samsung are expected to reach 20-30 million units in 2020, accounting for 10% of the Korean company's total purchases of such ICs in the year, the sources added.
FocalTech is expected to swing back to profitability in 2020, as prices of TDDI chips have begun moving upward since the second quarter and shipments of its AMOLED touch controller ICs will expand significantly in the year, the sources estimated.
The company posted revenues of NT$5.677 billion (US$192.67 million) in the first half of 2020, up 50.2% from a year earlier.
Meanwhile, FocalTech Smart Sensor, a sensor and optical device arm of FocalTech Systems, has signed a MOU with National Taiwan University Hospital's branch at the Hsinchu Biomedical Science Park for cooperation in the field of precision medicine and smart physiological monitoring systems.
FocalTech Smart Sensor, a specialist for optical fingerprint sensing, optical chassis design and related algorithm development, aims to extend its core technologies to cover the biomedical segment for tapping the emerging precision and preventive medicine business opportunities, said Liao, who also serves as chairman and CEO of the sensor firm.
FocalTech Systems Co., Ltd
(FocalTech for short), found in the USA in 2005 and went public in Taiwan in 2013, is a global leading HMI solutions supplier. FocalTech delivers the most complete line-up of capacitive touch panel controller solutions, fingerprint solutions and all-around TFT LCD display driver & control solutions. FocalTech is one of the pioneers in the R&D of capacitive multi-touch technology in the world and the largest supplier of capacitive touch panel controller ICs in Asia. It delivers 1.5-to-25-inch capacitive touch panel that adopt a variety of structures, processes and materials. FocalTech has more than 200 patents to its credit in and outside China and has rolled out the world's thinnest, lightest and most price-competitive mass-producible solutions in the In-cell and On-cell fields with high barriers to entry. FocalTech has been dedicated to the research and development of TFT LCD display driver ICs since its inception. After the merger in January 2015 of Orise Tech, a renowned display driver IC supplier, FocalTech becomes one of the few companies that completely master the technologies in TP and LCD mass production and helps speed up the R&D of single-chip IDC technologies. FocalTech delivers the most complete line-up of fingerprint solutions including swipe-type, area-type and small-area type solutions which adopt hardware-based cryptographic technologies and proprietary commercial algorithms. Equipped with patents on fingerprint and a perfect patent layout, FocalTech provides clients with all-around patent protection.
Websitehttp://www.focaltech-systems.com/

Overview
Established in 1987,
TSMC
is the world's first dedicated semiconductor foundry. As the founder and a leader of the Dedicated IC Foundry segment, TSMC has built its reputation by offering advanced and "More-than-Moore" wafer production processes and unparalleled manufacturing efficiency. From its inception, TSMC has consistently offered the foundry segment's leading technologies and TSMC COMPATIBLE® design services. TSMC has consistently experienced strong growth by building solid partnerships with its customers, large and small. IC suppliers from around the world trust TSMC with their manufacturing needs, thanks to its unique integration of cutting-edge process technologies, pioneering design services, manufacturing productivity and product quality. The company's total managed capacity reached above 9 million 12-inch equivalent wafers in 2015. TSMC operates three advanced 12-inch wafer fabs, four eight-inch wafer fabs, one six-inch wafer fab (fab 2) and two backend fabs (advanced backend fab 1 and 2). TSMC also manages two eight-inch fabs at wholly owned subsidiaries: WaferTech in the United States and TSMC China Company Limited. TSMC also obtains eight-inch wafer capacity from other companies in which the Company has an equity interest. TSMC is listed on the Taiwan Stock Exchange (TWSE) under ticker number 2330, and its American Depositary Shares trade on the New York Stock Exchange (NYSE) under the symbol "TSM". Website
http://www.tsmc.com
Last edited: