Top equipment maker sources globally while keeping most production in Netherlands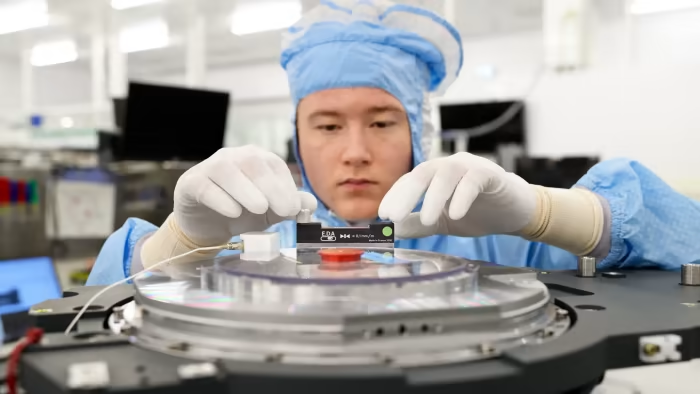 Decoupling the global semiconductor supply chain would be "extremely difficult and expensive" if not impossible, a senior executive at ASML, the world's most valuable chip equipment maker, told Nikkei Asia.
Christophe Fouquet, ASML's executive vice-president and chief business officer, said in an exclusive interview that any single country would struggle to build its own fully self-reliant chip industry.
"We do not believe in ASML that decoupling is possible. We believe this will be extremely difficult and extremely expensive," Fouquet told Nikkei at the company's headquarters in Veldhoven in the Netherlands. "It's a matter of time until people realise that the only way to be successful in semiconductors is through co-operation."The idea that we could go back to a little dark corner and do it all alone is most probably a very challenging concept," Fouquet said.
Christophe Fouquet, ASML executive vice-president and chief business officer: 'We prefer to use the very best suppliers' Fouquet's remarks came as large economies including the US, Japan, the EU, India and China rush to onshore vital semiconductor production in hopes of achieving self-reliance in chips.The secret to ASML's success, according to Fouquet, is its longtime collaboration with critical global suppliers such as Zeiss and Cymer and the support from its top chipmaking customers Taiwan Semiconductor Manufacturing Company and Intel.
ASML is the world's exclusive maker of cutting-edge chip equipment known as extreme ultraviolet (EUV) lithography machines, enabling production of advanced semiconductors below the 7-nanometre level. In chipmaking, the smaller the nanometre size, the more advanced and powerful the chips. The mobile chip in the premium iPhone 14 Pro and Nvidia's graphic processors are built with 4nm tech, in which ASML's machines play an indispensable role.
Zeiss of Germany is ASML's only supplier of precision mirror systems, one of the most critical optical parts for the EUV machine, while San Diego-based Cymer, which ASML acquired in 2013, is the sole provider of the EUV light source.ASML does the bulk of its production at its headquarters in the southern Dutch town of Veldhoven © Cheng Ting-FangNone of ASML's smaller peers — Nikon and Canon of Japan and China's Shanghai Micro Electronics Equipment — can yet match the European supplier's capabilities in cutting-edge lithography. The US has no domestic makers of chip lithography equipment."We prefer to use the very best suppliers [globally] . . .
This is a lot more effective. It allows us to move a lot faster," Fouquet said. "The big difference [in strategy] is Canon and Nikon were trying to do a lot of things by themselves.
"While it is open to cross-border collaborations, however, ASML believes that for some of the most sophisticated components it is best to have only one supplier."The investment in Zeiss to get EUV optics is huge. If you make it in two to three places, the cost doesn't work out any more . . . When it comes to unique technology, we develop partnerships with our suppliers," Fouquet said. "When it comes to less advanced technology, then we will look at multiple suppliers."
Zeiss of Germany is ASML's only supplier of critical precision mirror systems, used in various types of lithography machines. The bulk of ASML's production, meanwhile, is done in one place, its headquarters, and Fouquet said it would probably keep the majority — about 80 per cent to 90 per cent — of its production and integration there until at least 2026."It's very important for us to keep R&D and manufacturing together," the senior executive said. The Netherlands-based company had more than 14,000 R&D employees and a total of 37,643 employees globally as of the end of 2022.
ASML's headquarters is the tallest building in Veldhoven, an agricultural town in the southern Netherlands, and is about two hours by train from Amsterdam. Surrounded by corn and wheat fields, the building overlooks a vast wind farm at the border with Belgium. Construction is under way to expand clean-room spaces that will eventually manufacture ASML's next-generation chipmaking machines, which will use "high-numerical aperture extreme ultraviolet" lithography. The high-NA EUV machines will be essential for Intel, TSMC and Samsung in their race to introduce the most cutting-edge chips after 2025.
ASML headquarters in Veldhoven in the Netherlands will produce next-generation lithography machines © Cheng Ting-FangASML also operates repair centres at its global headquarters and a warehouse that categorises and collects used components from older-generation machines. It had reused 87 per cent of parts in its machines as of the end of 2022, and set a target to reuse 95 per cent of its parts by 2025. It is also expanding repair centres close to its chipmaking customers in South Korea, Taiwan, the US and China to help reduce carbon emissions.
ASML said it worked extremely closely with other leading chip equipment makers, such as Tokyo Electron, Lam Research and Applied Materials, as their machines needed to be linked together to form a complete chip production line. The co-operation started in the early stage of machine development, and all the parties were highly dependent on each other.
"We exchange all the information needed. The dependency also helped because if we don't do [collaboration], companies would get into trouble," Fouquet said.
He added that competitors had a high hurdle to clear if they wanted to duplicate its lithography machines."We spent a lot of energy designing the machine, and therefore that makes it very complicated for someone else to reproduce it . . . It's extremely difficult to copy," Fouquet said. "It's like you go to Amsterdam to the Van Gogh Museum and say, 'please make me the paintings'. You cannot do it."ASML is the world's most valuable semiconductor equipment company, with a market cap of about $288bn. It is the third most valuable company overall in the EU. ASML expects continued strong growth in 2023, with net sales forecast to increase more than 25 per cent and gross margin expected to improve slightly compared with 2022, despite a downturn in the chip industry.
Top equipment maker sources globally while keeping most production in Netherlands
www.ft.com