Key Highlights​
- Honeywell Aerospace is using Ansys to accelerate the development, analysis and certification of safety-critical embedded systems
- Integrating Honeywell's in-house model-based verification solutions within Ansys' model-based development environment enables confident design, simulation and testing of embedded code for autonomous vehicles, electric aircraft and safety-critical code
---
PITTSBURGH, PA, October 28, 2021
–Through a new collaboration,
Ansys
(NASDAQ: ANSS) is providing
Honeywell Aerospace
with model-based development solutions to accelerate the development, analysis and certification of safety-critical embedded systems in autonomous vehicles, electric aircraft and safety-critical code across industry verticals.
Safety-critical embedded software must meet strict and complex industry regulations. Verifying and validating this critical software is costly, time-consuming and labor-intensive. Like many manual processes, it can also be error prone. Honeywell and Ansys' robust model-based workflow extends companies' testing and analysis capabilities — delivering automation, efficiency and value throughout the software development process. The integration of the Honeywell's in-house model-based verification solutions within Ansys' model-based development environment enables confident design, simulation and testing of embedded code for a broad range of applications.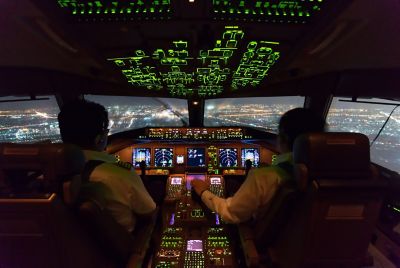 Ansys and Honeywell ensure safety-critical systems for aerospace, automotive and other industries are automatically validated, secure and reliable.
"Ansys shares our commitment to transforming software development, and this collaboration will lower development costs and cut down the time it takes to bring Honeywell products to market," said Jeff Radke, director of advanced technology at Honeywell Aerospace. "Through this collaboration, we remove complex manual processes and deliver significant benefits by streamlining workflows and minimizing the risk of code errors, freeing engineers to innovate the next generation of systems and products."
"If an embedded system contains imperfect code, it can lead to devastating and complete system failure," said Shane Emswiler, senior vice president of products at Ansys. "Ansys SCADE-certified code generators ensure the highest level of safety and empower system and software engineers with predictive accuracy and speed. Our collaboration with Honeywell delivers an integrated and comprehensive solution for industrial customers developing safety-critical software."
To learn more about Ansys and Honeywell's collaboration, visit Ansys at the Dubai Air Show at booth 380 at the
Dubai Air Show
.
About Ansys
If you've ever seen a rocket launch, flown on an airplane, driven a car, used a computer, touched a mobile device, crossed a bridge or put on wearable technology, chances are you've used a product where Ansys software played a critical role in its creation. Ansys is the global leader in engineering simulation. Through our strategy of Pervasive Engineering Simulation, we help the world's most innovative companies deliver radically better products to their customers. By offering the best and broadest portfolio of engineering simulation software, we help them solve the most complex design challenges and create products limited only by imagination. Founded in 1970, Ansys is headquartered south of Pittsburgh, Pennsylvania, U.S.A. Visit
www.ansys.com
for more information.
Ansys and any and all ANSYS, Inc. brand, product, service and feature names, logos and slogans are registered trademarks or trademarks of ANSYS, Inc. or its subsidiaries in the United States or other countries. All other brand, product, service and feature names or trademarks are the property of their respective owners.