While India has done well in terms of chip design and electronics manufacturing, there have been challenges in setting up of Semiconductor Wafer Fabrication (FAB) units for a long time.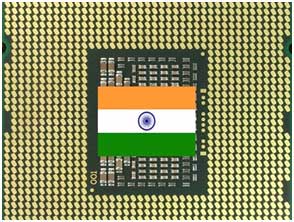 The digital age has propelled the world into consuming electronics at an unprecedented scale. Worldwide shipments of devices — PCs, tablets and mobile phones — totalling 2.2 billion units in 2019. All of these gadgets require semiconductor chips to function, and it is clear that economies with a large production of these chips have benefited the most in terms of enhancing their GDP. US, Japan, Korea, China, Singapore, etc are all large producers of semiconductor chips and also have a strong foothold on the global economy.
Where Does India Stand?
While India has done well in terms of chip design and electronics manufacturing, there have been challenges in setting up of Semiconductor Wafer Fabrication (FAB) units in India for a long time. This is due to multiple factors, including not just the lack of infrastructure and skilled labour in the country. It is also difficult to compete with neighbouring countries like China and Vietnam which have been favourite destinations for global chip manufacturers due to better cost-efficiency. It is for these reasons that Intel stated in 2014 it had no interest in starting manufacturing in India.
There have been attempts to set up semiconductor fab units here by private companies in the country:
Hindustan Semiconductor Manufacturing Corporation (HSMC), a consortium of companies that included ST Microelectronics and Silterra Malaysia was aiming kickstart chip manufacturing plant in Gujarat, a project worth ₹30,000 crore. The government in 2019 cancelled the letter of intent granted to HSMC and now there is no such proposal from any private company to initiate such a project. The reason was that the consortium could not submit the required documents asked by the government for setting up of Semiconductor Wafer Fabrication (FAB) unit. HSMC had been backed by AMD and has also received ₹700 crore in funding from Mumbai-based Next Orbit Ventures.
Then there was another consortium led by Jaiprakash Associates, which partnered with IBM and Tower Semiconductor of Israel to start chip manufacturing in UP. In 2016, debt-ridden Jaiprakash (JP) Associates has pulled out of the ₹34,000-crore. If the only two private sector consortiums cleared by the government to establish large scale chip manufacturing in the country could not make it happen, then it's certainly a bad indicator to why India is lagging behind in the space.
What Are The Hurdles?
There are more than 170 semiconductor manufacturing plants in the world.
Here, look at some facts.
Cost per plant is more than one billion USD which can easily reach to $3–4 billion.
Samsung spent $14.7 billion on their new memory chip plant in 2014.
Requirement for central part of semiconductor pant is extremely complicated.
1.Company must eliminate all dust, temperature and humidity control to minimize static electricity, dampened against vibration.
2.The machines for different processes such as photo-lithography, etching, cleaning, doping and dicing are too expensive from $7,00,000 to $40,00,000 and also up to $50,00,000 for each wafer stepper. Hundreds of machines are required in one plant.
3.Capital depreciation can account for 50-80% of manufacturing cost in this kind of plant.
Now, assume India want to build this type of plant. The first plant obviously cost minimum $14.7 Billion (same as Samsung) = 10,06,14,15,00,000 INR = 100 Billion INR.
Reliance Industries Ltd (RIL), is the highest ranked Indian company in terms of market capitalisation of $71.2 billion.
Total equity of SBI is $32 Billion.
Total revenue of Indian oil is $61 billion.
For the whole semiconductor industryin USA , cleanroom electricity demand is estimated at 3500 MW and consumption at over 15,000 gigawatt-hours per year.
At any cost. no Indian companies can take this risk. In addition, foreign company can not invest due to poor infrastructure, less workers and electricity problems.
Overview
Clearly, there is no dearth of talent when it comes to India becoming a dominant player in semiconductor chip manufacturing. Yet, the country has struggled to find a way to establish fab units needed for large scale manufacturing. Now, with the rising demand for electronics, India is a large net importer of semiconductor chips. In fact, expert say that India is spending more money on import of semiconductor than on oil. The way to reduce the dependency on chip imports is to create semiconductor  manufacturing units within the country. Here, the government needs to make sure there is proper infrastructure and investments are  made so that scalable manufacturing units can be created. We also need to look at the success story of China in semiconductor manufacturing and take lessons.