Nice to see you again,
hashtag#India
!
We're excited to meet more
hashtag#APR
/
hashtag#PhysicalDesign
talents in February, 2020! Join us to lead the industry in IC innovation at TSMC Design team.
hashtag#TSMC
is a workplace that provides long-term development, leading-edge technology, sense of belonging and responsibilities. Here, you will develop the most advanced design solutions to enable >10,000 global customers' products. Check out to join our growing team↓
Apply Now:
https://reurl.cc/drygrM
Event Location: Noida (19-20 Feb.), Hyderabad (22-23 Feb.), Bangalore (25-26 Feb.)
Work Location: Hsinchu, Taiwan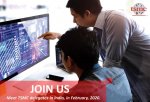 TSMC pioneered the pure-play foundry business model when it was founded in 1987, and has been the world's largest dedicated semiconductor foundry ever since. The company supports a thriving ecosystem of global customers and partners with the industry's leading process technology and portfolio of design enablement solutions to unleash innovation for the global semiconductor industry.
TSMC serves its customers with global capacity of more than 12 million 12-inch equivalent wafers per year in 2019, and provides the broadest range of technologies from 2 micron all the way to foundry's most advanced processes, which is 7-nanometer today. TSMC is the first foundry to provide 7-nanometer production capabilities and the first to commercialize Extreme Ultraviolet (EUV) lithography technology in delivering customer products to market in high volume. TSMC is headquartered in Hsinchu, Taiwan.