December 02, 2021
Chris Bergey, SVP and GM, Infrastructure Line of Business, Arm
When AWS acquired Annapurna Labs in 2015, they had a vision of changing how the cloud is delivered with the Nitro system. Now, Graviton has become an extension of that innovation, driving more choice and the best possible customer experiences across the entire infrastructure stack. As AWS' offerings from cloud to edge expanded, our ongoing collaboration surfaced a growing need for specialized processing to unleash the true potential for next-generation infrastructure.
AWS Graviton and Graviton2 revealed the benefits of Arm-based compute in the cloud and the flexibility it continues to bring customers and developers alike across various verticals. The growth and success of those Arm-based processors hasn't stopped. The price-performance advantages of Arm-based cloud instances have permeated across the AWS service portfolio:
AWS has seen rapid adoption of Arm-based Graviton2 processors with thousands of customers including Epic Games, whose Fortnite video game has more than 350 million accounts registered, to SmugMug/Flickr, one of the world's largest photo sites, to Formula 1, Snap Inc., and many more.


Arm-based Graviton2 powered instances boast nine instance families that span 23 regions across the globe. The growing service portfolio is more diverse than ever with new G5g instances providing the best price performance for Android game streaming and cost-effective machine learning (ML) inference and Im4gn/Is4gen instances for best price performance for storage intensive applications revealed just this week.
Arm-based Graviton2 powered managed services are making it quicker and easier than ever for customers to realize the benefits of Graviton2.


Arm-based Graviton2 is now available in AWS Outposts Servers designed for on-premises and edge locations that have limited space or need access to low latency compute, such as retail stores, branch offices, healthcare provider locations, or factory floors.


And AWS Graviton2 instances are playing an increasingly critical role in supporting the annual Amazon Prime Day, one of the busiest e-commerce days of the year, at scale. Per the AWS team this was a strong indicator that the Arm architecture is well-suited to the cloud.
Datacenter workloads and internet traffic are nearly doubling every two years, so performance per watt benefits are crucial to keep computing from increasing its carbon footprint. The growth of Arm in the cloud is giving developers a choice to continue to innovate sustainably by providing consistent performance and scalability on a per core basis, enabling a combination of scalable performance and efficiency to deliver industry leading TCO. AWS has continued to play an important role in showcasing the benefits of Arm IP to the cloud computing market, from AWS Nitro to the first introduction of Graviton instances in 2018 to today.
This week AWS achieved its next Arm technology milestone with
AWS Graviton3
, which delivers 25% more performance for compute intensive workloads. Additionally, Graviton3 achieves up to 2x floating point performance on machine learning, gaming, and media encoding workloads and up to 2x faster performance for cryptographic workloads. Graviton3 supports bfloat16 data to deliver 3x better performance for machine learning workloads. All of this while using up to 60% less energy.
Even more, AWS
revealed C7g instances
powered by new Graviton3 processors and these are
available in preview
. C7g is the first cloud instance to support DDR5, enabled by Arm Neoverse, to allow for more memory bandwidth and unlock even more performance. Customers like Twitter are already testing C7g instances in beta and seeing 20-80% higher performance over C6g instances.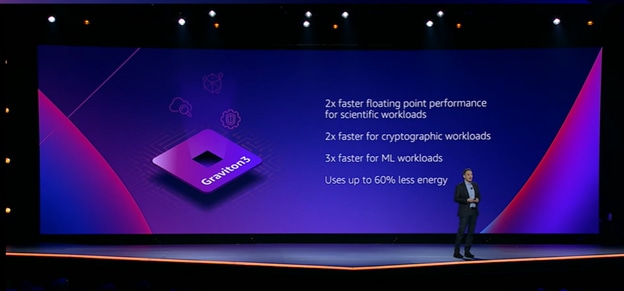 The performance, cost and efficiency advantages of Arm-based Graviton processors are enhancements we benefit from within our own company as well. Last year, we
migrated a significant percentage of design and verification EDA workloads to AWS Graviton2 instances
to not only reduce our global datacenter footprint, but also to take advantage of unlimited elasticity. To-date, we have seen a 6x improvement in the time it takes to complete some EDA workflows, while reducing the cost by 30% compared to the use of legacy processors. We look forward to the performance gains that Graviton3 instances will bring as we migrate even more of our complex workloads with maximum performance and minimum energy consumption.
The growing ecosystem of HPC and cloud native applications that have been optimized for the Graviton family of processors has reinforced that high-performance combined with low power, low cost, flexibility and compatibility are key principles in the next era of computing. We expect Graviton3 to continue the upward trajectory of delivering even more compelling price performance for a broad set of applications, highlighting the important role of specialized processing for greater efficiency in the next era of cloud computing.
Additional Resources
About Arm​
Arm technology is at the heart of a computing and data revolution that is transforming the way people live and businesses operate. Our energy-efficient processor designs and software platforms have enabled advanced computing in more than 200 billion chips and our technologies securely power products from the sensor to the smartphone and the supercomputer. Together with 1,000+ technology partners we are at the forefront of designing, securing and managing all areas of AI-enhanced connected compute from the chip to the cloud.
All information is provided "as is" and without warranty or representation. This document may be shared freely, attributed and unmodified. Arm is a registered trademark of Arm Limited (or its subsidiaries). All brands or product names are the property of their respective holders. © 1995-2021 Arm Group.