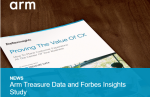 News highlights:
Arm Treasure Data and Forbes Insights study reveals 74 percent of consumers are at least somewhat likely to buy based on experience alone
Eighty-three percent of executives face moderate to severe revenue and market share risks due to unimproved customer experience (CX)
Fifty-six percent of companies use data that captures the interactions of the most engaged customers to evaluate which customer segments to nurture
Tom Treanor, global head of marketing, Arm Treasure Data discusses
in this blog
the findings from a new Arm Treasure Data and Forbes Insights study, "Proving the Value of CX." While every company wants to be more customer-centric, the term customer experience (CX) can mean many different things to many people and is heavily reliant on data.
It starts with obtaining a holistic view of all the customers' interactions with the brand across both digital and in-store. While this can often be challenging as touchpoints are spread out across multiple systems – such as POS, CRM, social, customer service, and more – leveraging a customer data platform (CDP) can help securely unify all of the data to provide a single source of truth.
If you have any questions or would like to discuss these findings with an Arm spokesperson, don't hesitate to get in touch.