Webinar: MimicPro™ – A Revolution in the Prototyping and Emulation Segment
September 13, 2022 @ 10:00 AM

-

11:00 AM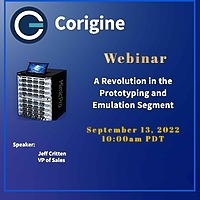 *Company emails are required for this webinar*
This webinar will introduce to you a revolutionary new way to do prototyping and emulation at best-in-class performance, productivity, and pricing by unifying the hardware and a new software stack so one system is capable of prototyping and delivering essential emulation functionality.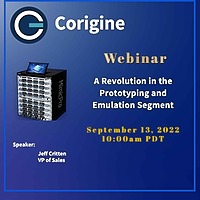 WEBINAR OVERVIEW
Today, companies invest millions into costly emulation systems that need special power and cooling requirements and perform at around 1Mhz best cast in order to run verification. With VC funding on the rise for fabless startups, these players need similar capabilities and Corigine with the only "Unified" Platform for prototyping and emulation functionality is answering these market requirements.
Corigine's goal was to create an FPGA-based system that could be brought to market and bridge the gap between prototyping and major emulation functions. Doing so would reduce the investment in the key emulation functionality and require only a single platform for both teams meaning much lower overall infrastructure support costs. The need for a faster and lower-cost platform for prototyping and key emulation functions is apparent and Corigine's MimicPro product line is aimed directly at those requirements.
WHAT YOU WILL LEARN
How Corigine combines prototyping and essential emulations functionality into one MimicPro product line.
How you can take advantage of Mimic to acquire more capacity for less budget, increase your throughput and enable your firmware teams to gain access to this technology as soon as you have a golden RTL netlist
SPEAKER
Jeff Critten relocated from Toronto to California in 1997 and joined Cadence Design Systems as a Verification Applications engineer. Jeff was responsible for some of the largest EDA accounts in the business including Intel, Broadcom, HP, and many others. Jeff joined Corigine as the VP of Sales in late 2021.
*This webinar is in partnership with Corigine and SemiWiki*
Share this post via: