Webinar: Code Review for System Architects
December 13, 2022 @ 10:00 AM

-

11:00 AM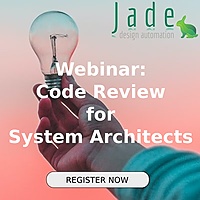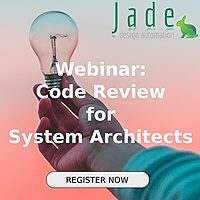 * Company email is required*
Register management tools have been used mostly in a bottom-up approach. There are some documents and/or spreadsheets created by the System Architects that are delivered to the design and verification teams. They then start capturing the HW/SW interface of the peripheral IPs in their in-house or commercial register management tool working their way up to the full SoC.
Using these tools make sure that the different teams are in sync and that there is a single source of truth for the HW/SW interface. This is a great step forward from where different teams were manually maintaining their view of the SoC registers. Jade Design Automation thinks that this could be taken to the next level and register management tools can be used in a top-down approach as well, right from the moment when the first draft of the SoC is created by the System Architect.
How cross domain knowledge can help create better SoCs?
This webinar shows how we can combine tools and practices from seemingly far away domains and how simple ideas can have great impact.
As the System Architect starts capturing the system level memory map and the high level HW/SW interface of the SoC, the Tech Leads need to review the proposed changes, assess the impact on their domains and raise potential issues as early as possible.
*This webinar is in partnership with SemiWiki and Jade Design Automation*
Share this post via: