Silicon Angels: Startup Investing Climate and Lessons for Investors, Directors and CEOs
August 31, 2020 @ 5:00 PM

-

6:30 PM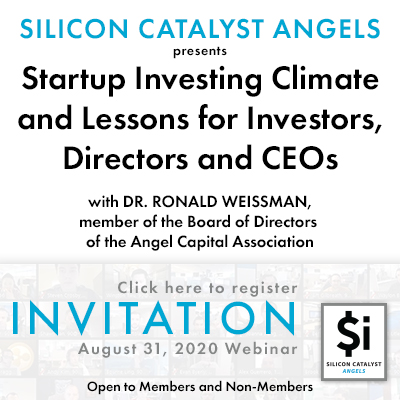 Startup Investing Climate and Lessons for Investors, Directors and CEOs with Dr. Ronald Weissman, Chairman, Band of Angels Software Group
About this Event
Startup Investing Climate and Lessons for Investors, Directors and CEOs
Dr. Ronald Weissman, Chairman of the Band of Angels Software Group and member of the Board of Directors of the Angel Capital Association.
Ron will review the angel and VC fundraising climate for startups, especially in the area of semiconductors.
How does the 2020 COVID crisis compare to earlier dot.com and Lehmann crises?
Post-COVID, has there been a decline in funding? If so, which sectors are doing well?
How do 2020 valuations compare with 2019? What's the outlook for "Zoom deals," where there is no face to face contact with management?
Has investor behavior changed? And how long do investors believe the crisis will last?
After surveying the current funding environment, the presentation will include a question and answer session with attendees, to discuss the lessons for investors, Boards and CEOs in navigating today's landscape and preserving "good governance."
About Silicon Catalyst Angels, Inc.
Silicon Catalyst Angels was spawned from Silicon Catalyst, the world's only incubator focused exclusively on accelerating solutions in silicon. Silicon Catalyst, named UBM/Canon's Startup Company of the Year, is now in its sixth year of operations and has engaged with over 300 startups.
What makes Silicon Catalyst Angels unique is not only our visibility into an exclusive deal flow pipeline, but our membership is comprised of seasoned semiconductor veterans who bring with them a wealth of knowledge along with their ability to participate in funding as accredited investors . Driven by passion and a desire to 'give back', our members understand the hardware space thanks to a lifetime of engagement in the industry. When you couple our members enthusiasm, knowledge, and broad network of connections with companies that have been vetted and admitted to Silicon Catalyst, you have a formula that is to date, non-existent within the investment community.
For further information contact: Richard Curtin, Treasurer & VP of Business Operations – Silicon Catalyst Angels, richard@siliconcatalystangels.com or visit: siliconcatalystangels.com
Share this post via: