WEBINAR: Securing Connected Home Devices Using OTP NVM IP

With the proliferation of connected home devices in the market, security has become a key concern. Media processors that enable multimedia, seamless connectivity, and customized entertainment on home devices need to balance performance and power needs without compromising security. A robust security engine is integral to such a system to ensure secure boot, video watermarking, and digital rights management (DRM) of premium content for TVs, set-top-boxes, streaming, and gaming applications. This is implemented with secure storage of encryption keys, configuration, and version control information.
In this webinar, attendees will learn:
Why seamless security is important to consumers and content providers
Synaptics' use of Synopsys' DesignWare® one-time programmable (OTP) non-volatile memory (NVM) IP to develop single-chip media processors with secure DRM for the connected home entertainment market
Overview from Synopsys on the wide range of available DesignWare OTP NVM IP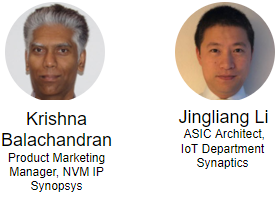 Krishna Balachandran is responsible for NVM IP Product Marketing at Synopsys, including product and business strategy, marketing operations, product management, promotion, and business development. He has an extensive experience in the EDA and semiconductor IP markets and has previously held roles in Product Marketing and Business Development for EDA tools and Semiconductor IP at Synopsys, Cadence, and Virage Logic. He holds a Master's degree in Computer Engineering from the University of Louisiana, Lafayette.
Jingliang Li is a member of the ASIC architecture team in the IoT department at Synaptics. Prior to Synaptics, he worked for Marvell in a similar role. Jingliang's work experience encompasses the entire ASIC RTL design flow: from architecture design to RTL coding and integration, timing closure and custom layout design. His daily work includes ASIC architecture design, analysis and implementation. In recent years, he has focused on the Neural-network Processing Unit and SoC security. He received his undergraduate degree from the University of Electronic Science and Technology of China, where he majored in Electronics Engineering. He also holds a master's degree in Electrical and Computer Engineering from UC Davis.
Share this post via: