Increase Your Layout Team's Productivity with SkillCAD
December 8, 2020 @ 10:00 AM

-

5:00 PM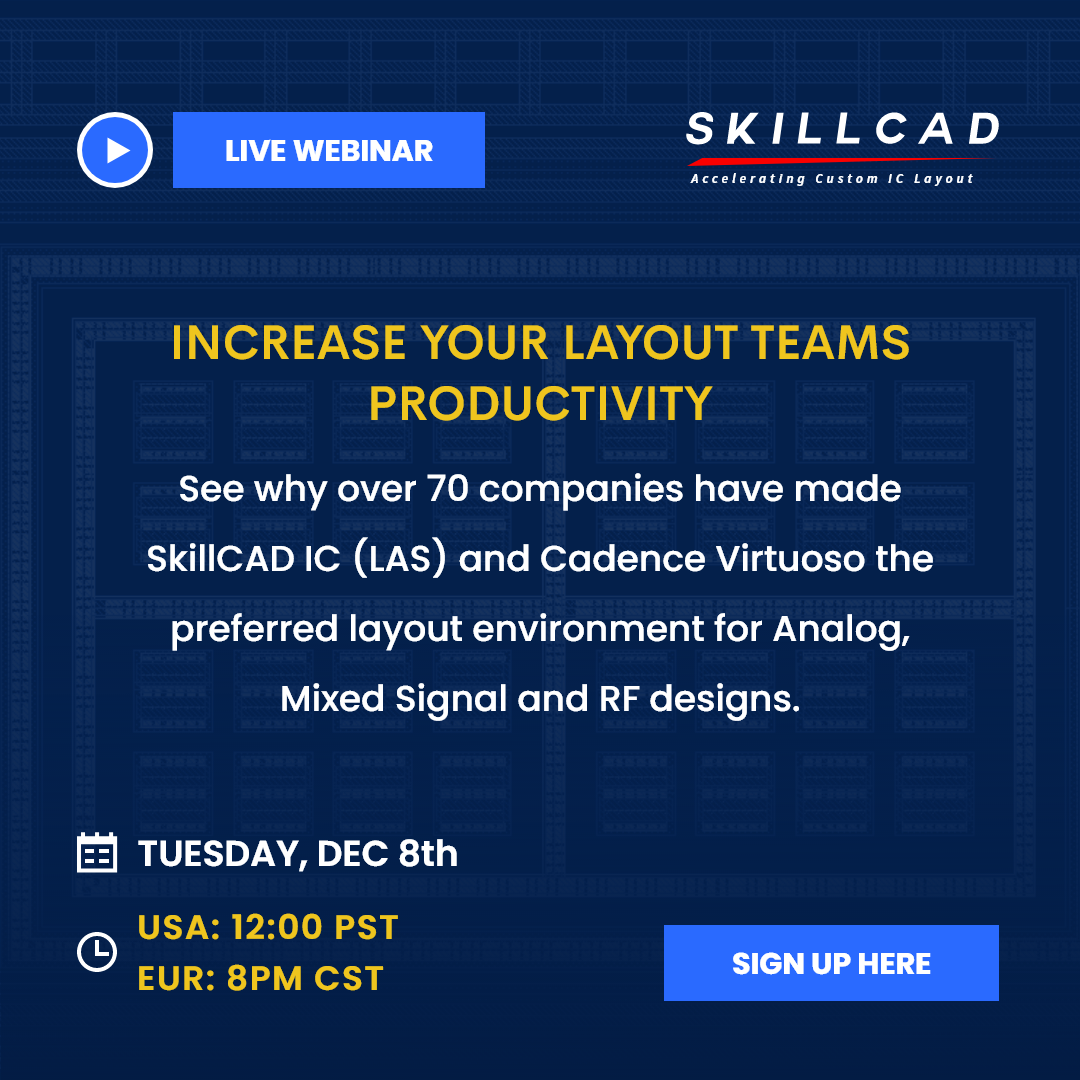 Cadence Virtuoso is by far the most popular layout tool for IC design. This is especially true at advanced process nodes. One of the key reasons for this is its built-in extension language, SKILL. SKILL is a powerful tool to add time saving and customized functionality to the Virtuoso layout editor. For analog and custom design the command features developed in SKILL can really enhance the layout editing experience.
In this webinar you will learn why more than 70 companies have made SkillCAD Layout Automation Suite (LAS) and Cadence Virtuoso the preferred layout environment for analog, mixed signal and RF designs. SkillCAD LAS is a collection of 120+ user guided and auto routing commands that can boost layout productivity on average 30-50%.
SkillCad's proprietary "correct and optimized by construction" eliminates design rule violations, automates complex error prone layout implementation while reducing tape-out time.
About SKillCAD Founded in 2007 to enhance productivity to Cadence Virtuoso layout design flow. Cadence Virtuoso + SkillCad have become the industry standard layout environment for full custom analog, RF, and mixed-signal designs. Over 80% of the major analog and mixed signal (AMS) companies use SkillCad. SkillCad seamlessly integrates with Cadence Virtuoso Layout L, XL and GXL and supports IC5, IC6, IC12, IC18. SkillCad has been a Cadence Connection Partner since 2008.
Share this post via: