Improving IP Quality For Compliance
April 27, 2022 @ 10:00 AM

-

11:00 AM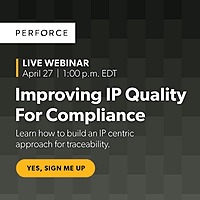 *Company email required for registration*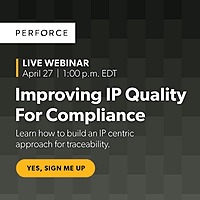 Establishing traceability is critical for many organizations — and a must for those who need to prove compliance. Using a platform approach, you can create end-to-end verification traceability for your designs, if you have the right tools.
Perforce solutions help leading organizations create a single source of truth, allowing teams to create complete traceability, from requirements through design to verification. Now, everyone can find out all information they need, without having to search through past projects or rely on team members.
Learn how to build an IP centric approach for traceability. Join Wayne Kohler — Senior Solutions Engineer at Perforce — to discuss:
How to build a platform to improve traceability.
How Perforce tools can create a single-source-truth for designers and developers.
What you need to consider when complying with ISO 26262.
Speaker Bio: Wayne Kohler is an industry veteran with a wide-range of expertise in ASIC and custom design tools, CAD engineering infrastructure and methodology, version control, and configuration management for the Semiconductor and EDA industries. He has held senior-level engineering positions in companies such as: Lucent/Agere, Mentor Graphics (a Siemens company), Ensoniq, Microsemi, Boeing, Microchip, and now Perforce Software.
*This webinar is in partnership with SemiWiki and Perforce
Share this post via: