How to add a NIST-Certified Random Number Generator to any IoT device?
February 9, 2022 @ 9:00 AM

-

10:00 AM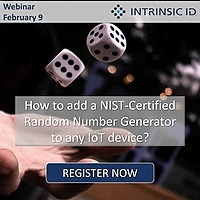 Company Email is Required
Researchers from Bishop Fox recently identified a new critical vulnerability of IoT devices. Their study showed that random number generators (RNGs) used in billions of IoT devices fail to provide sufficient entropy. Insufficient entropy causes predictable instead of random numbers, which severely compromises the foundation of many cryptographic algorithms. Secret keys will lose their strength, leading to broken encryption. So a new approach for generating random numbers is needed. This webinar shows how entropy can be extracted from unpredictable SRAM behavior. Using this method only requires a software installation, meaning the security systems of billions of devices can be patched without any hardware changes, even in devices that have already been deployed.
What will you learn?
This webinar shows how you can utilize Zign™ RNG, the Intrinsic ID embedded software IP for random number generation, to add a NIST-certified random number generator to any device, simply using software.
The webinar will explain:
Why having a good RNG is important for any IoT device

How entropy can be extracted from SRAM 

How this entropy is used to create a strong RNG 

What has been done to get Zign RNG NIST-certified
Who should attend?
This webinar is must-see for anyone responsible for product design or embedded security of IoT chips and devices. This webinar will show you how you add a trusted source of entropy to your products without making any changes to your hardware.
About Zign
RNG Zign RNG is an embedded software IP solution from Intrinsic ID that leverages the unpredictable behavior of existing SRAM to generate entropy in IoT devices. This enables anyone to add an RNG to their products without hardware modifications. Zign RNG is compliant with NIST SP 800-90. It can be installed at any point in the supply chain, and even retrofitted on already-deployed devices.
This webinar is in partnership with SemiWiki and Intrinsic ID
Share this post via: