Electronic Design Process Symposium (EDPS)
October 3, 2019

-

October 4, 2019
Electronic Design Process Symposium (EDPS)
on
Efficient Design and Manufacturing
October 3-4, 2019
at SEMI, 673 S. Milpitas Blvd, Milpitas, CA 95035
About EDPS: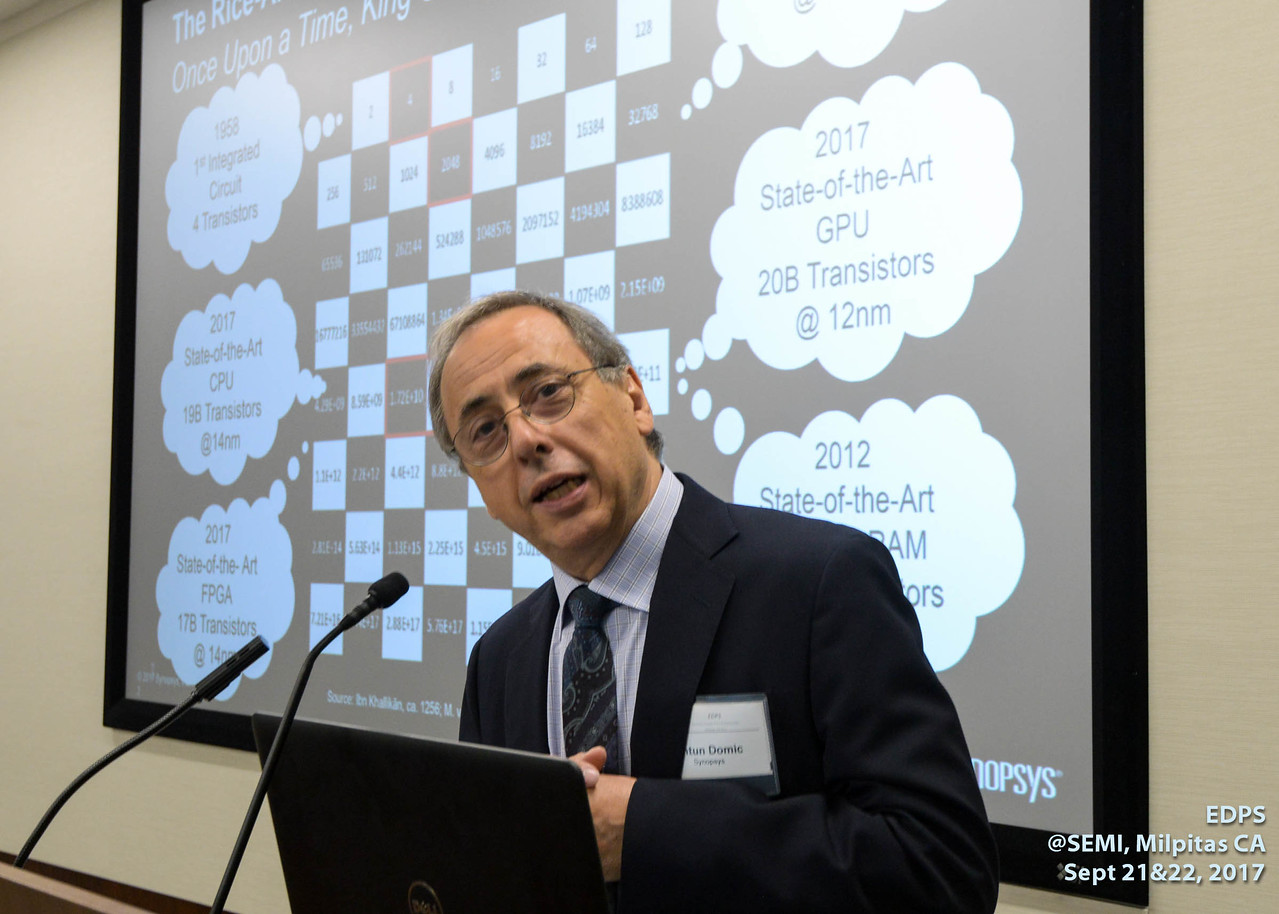 The 2019 Electronic Design Process Symposium will be a leading forum for advanced chip and systems design pocesses development and CAD methodologies.
Recent advances in computational power, data science technology, and associated applications have led to the development and proliferation of machine learning, intelligent manufacturing, and predictive design methodologies. New techniques are also emerging to enable reduced NRE and faster time to market, which are critical components in any semiconductor business.
CALL FOR PAPERS:
In this annual gathering of electronic IC/system designers, developers, and manufacturing experts, we will discuss design methodologies, design flows and CAD tool needs via keynotes, presentations, and panel discussions.
Contributors may choose from topics such as:
Machine Learning in System Design and EDA
Smart Manufacturing
Innovative Designs and Design Techniques
Systems Synthesis
Smart Verification
System reliability
Cyber Systems Design with emphasis on security
Please contact, contact Ray Rodriguez (ramond.rodriguez@intel.com) to submit IEEE-EDPS 2019 abstract and discuss mutual areas of interest.
All presentations slides will need to be available in final form by Aug 15, 2019.
Complete presentations from 2018 EDPS and prio years are available at:
http://edpsieee.ieeesiliconvalley.org/EDP2018/edps_program.php
See also a 1-page-Program.pdf printable program Flyer
CONFERENCE REGISTRATION
To register for the Symposium/Workshop event, go to:
Early registration deadline is August 31st, with fees of $199.
After August 31st and at the meeting, registration fees are $249.
Registration includes a flashdrive or printed copy of the workshop notes, lunch both days, and the EDP banquet dinner.
You may bring a guest to the Banquet Dinner for $50.00. If you do, register using a "Dinner Only" ticket and pay with a CC at the same time when you first check into the meeting.
HOTEL REGISTRATION
Hotels near by (#3 and #8 are walkable; rest are at 237 & 880 and will need transportation)
Crown Plaza San Jose-Silicon Valley, 777 Bellew Dr, Milpitas, CA 95035
Hilton Garden Inn San Jose-Milipitas, 30 Ranch Dr, Milpitas, CA 95035
Embassy Suites, 455-457 E Calaveras Blvd, Milpitas, CA 95035
Staybridge Suites Silicon Valley – Milipitas, 321 Cypress Dr, Milpitas, CA 95035
Best Western plus Brookside Inn, 400 Valley Way, Milpitas, CA 95035
Days Inn San Jose-Milpitas, 270 S Abbott Ave, Milpitas, CA 95035
Stay America San Jose-Milipitas-McCarthy Ranch, 330 Cypress Dr, Milpitas, CA 95035
Extended Stay America San Jose-Milipitas, 1000 Hillview Ct, Milpitas, CA 95035
​#3 and #8 are within walking distance, Attendees should go ahead and make their own reservations. For the best deals they can probably go through popular hotel booking websites.​
Share this post via: